The Rule of Law in Senegal
10-12 MARCH 2015 | DAKAR, SENEGAL
As part of the World Justice Project's (WJP) work in leading a global, multidisciplinary effort to strengthen the rule of law, the WJP works with local partners to organize individual country workshops that help assess rule of law challenges and opportunities in a national context. In these meetings, WJP convenes leaders from diverse sectors with the ability to make meaningful change, presents in-depth, country-specific findings from the WJP Rule of Law Index, then invites participants to develop practical programs that will strengthen adherence to the rule of law in their communities.
The March workshop in Senegal brought together more than 50 leaders from business, academia, civil society and government to assess current rule of law challenges and opportunities in Senegal. Keynote speakers from Senegal included Mr. Badio Camara, Public Prosecutor of the Supreme Court of Senegal; and Mr. Adama Dieng, WJP Honorary Chair and UN Secretary-General's Special Adviser on the Prevention of Genocide, through a welcome video that was presented during the Opening Dinner Reception. Other speakers from the international community included Dr. Juan Carlos Botero, Executive Director of the World Justice Project; Mr. Innocent Chukwuma, West Africa Representative at Ford Foundation; Mr. Kamel Ayadi from Tunisia, Founding Chairman of World Federation Engineering Organizations' Committee on Anti-corruption; Mr. Reinford Mwangonde, Executive Director of Citizens for Justice in Malawi.
Following a presentation of WJP Rule of Law Index® data on rule of law adherence in Senegal (see the Senegal country report in the right sidebar), participants have worked to generate ideas that address rule of law challenges and create plans to implement these ideas after the event. Topics for these discussions include: 1. Access to Justice, 2. Anti-corruption, 3. Advancing Women's Rights, and 4. Protecting Children's Rights.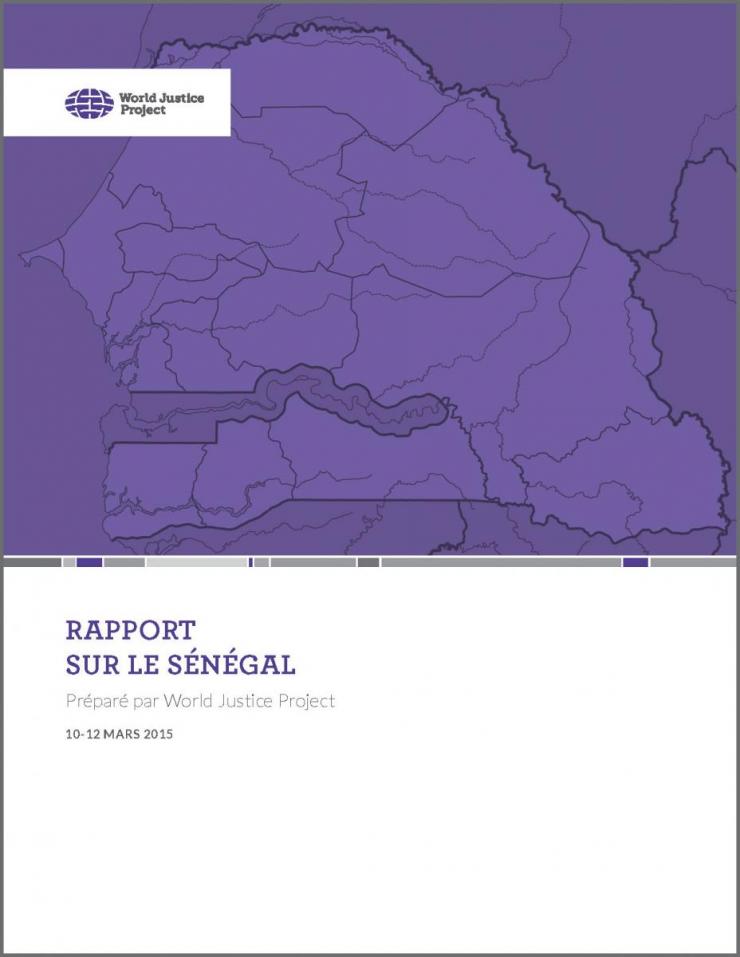 WJP Senegal Country Report
---
L'Etat de droit au Sénégal
10 au 12 mars 2015 – DAKAR, SENEGAL
Dans le cadre de la mission du World Justice Project (WJP) à mener un mouvement mondial et multidisciplinaire afin de renforcer l'Etat de droit, le WJP travail avec des partenaires locaux afin d'organiser des séminaires nationaux afin d'évaluer les défis et les opportunités de l'Etat de droit dans un contexte national. Durant ces évènements, le WJP réunit des leaders de divers secteurs qui ont l'habilite d'apporter des changements significatifs ; présente des résultats détaillés sur le pays à partir du WJP Rule of Law Index ; et invite les participants à développer des projets pratiques qui puissent renforcer l'Etat de droit dans leurs communautés.
Le séminaire de mars au Sénégal a réuni plus de 50 leaders du secteur privé, académique, de la société civile et du gouvernement afin d'évaluer les défis et opportunités de l'Etat de droit au Sénégal. Monsieur Badio Camara, Procureur General a la Cour Suprême du Sénégal a prononcé l'allocution lors de la session d'ouverture le 11 mars ; et Monsieur Adama Dieng, Président Honoraire du WJP et Conseiller Spécial du Secrétaire General de l'ONU pour la Prévention du Génocide a également prononce un discours de bienvenue durant une vidéo qui a été présentée pendant le diner d'ouverture le 10 mars. Les autres orateurs de la communauté internationale incluaient Dr. Juan Carlos Botero, Directeur Exécutif du World Justice Project ; Dr. Innocent Chukwuma, Représentant de l'Afrique de l'Ouest a la Fondation Ford ; Monsieur Kamel Ayadi, Président Fondateur du Comité pour la Lutte contre la Corruption a la Fédération Mondiale des Organisations d'Ingénieurs en Tunisie; et Monsieur Reinford Mwangonde, Directeur Exécutif de Citizens for Justice au Malawi.
Apres une présentation du WJP Rule of Law Index®sur des données sur l'Etat de droit au Sénégal (voir le Rapport sur le Sénégal à télécharger sur cette page), les participants ont travaillé à créer des solutions pratiques pour adresser les défis de l'Etat de droit après l'évènement. Les sujets des groupes de travails étaient les suivants : 1. L'accès a la justice ; 2. La lutte contre la corruption ; 3. L'avancement des droits des femmes ; 4. La protection des droits des enfants. 
Welcome video from Mr. Adama Dieng, World Justice Project Honorary Chair and UN Secretary-General's Special Adviser on the Prevention of Genocide (10 March 2015)
Selected Senegal Programs