Oct. 26-27, 2018 | Duke University Law School
On Oct. 26-27, 2018, a distinguished group of leading academics and experts joined the World Justice Project's Rule of Law Research Consortium (RLRC) for a two-day conference at Duke Law School. The event was organized by the Rule of Law Research Consortium of the World Justice Project and hosted by Duke University, and focused on the theme of "The Rule of Law: Subnational, Supranational, and Empirical." Presentations and discussions at the conference included:
---
Alejandro Ponce, World Justice Project
Jack Knight, Duke Law School
Tom Ginsburg, University of Chicago Law School
Subnational Governance and the Rule of Law
Chair/Discussant: Margaret Levi, Stanford University
Discussant: Jack Knight, Duke University
Data and Decentralization 
— Kevin Davis, New York University
What Explains Taxation by Resource-Rich Rebels: New Data from the Islamic State in Syria 
— Mara Revkin, Yale University
Public (Dis)trust in Law? Trust Gaps in China and Beyond
— Ethan Michelson and Alisha Kirchoff, Indiana University
The Rule of Law Across Time and Space
Chair/Discussant: Maggie Lemos, Duke University
Economic Harbingers of Ottoman Political Modernization: Evolving Anatomy of Power in Istanbul, 1600-1893
— Timur Kuran, Duke University
Judicial Review by the People Themselves: Democracy and the Rule of Law in Ancient Athens
— Federica Carugati, CASBS Stanford
Anthony Lewis Award Presentation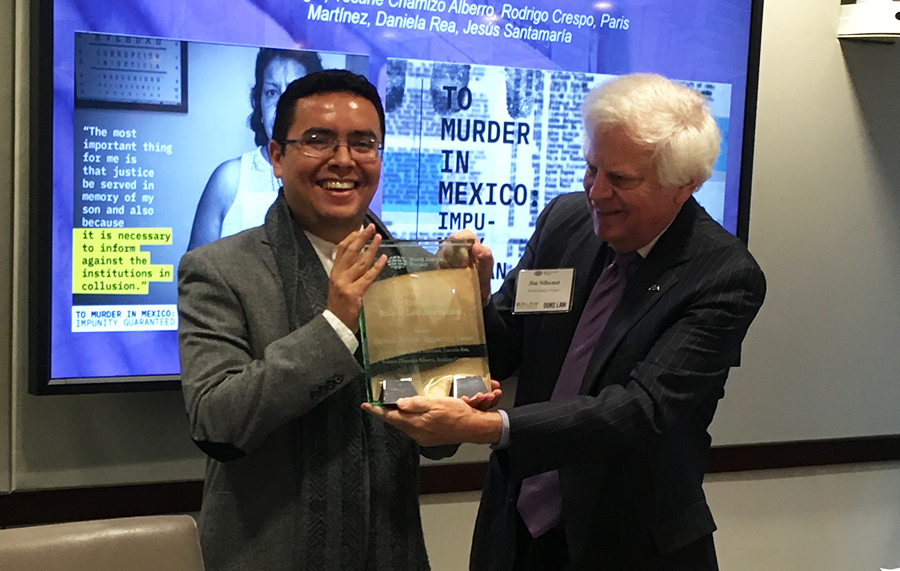 Presented at the 2018 WJP Scholars Conference, the 2018 Anthony Lewis Prize for Exceptional Rule of Law Journalism was awarded to a reporting team from Mexico's Animal Político, who won for their investigative reporting series, "To Murder in Mexico: Impunity Guaranteed." The team is comprised of: Arturo Ángel, Paris Martínez, Daniela Rea, Yosune Chamizo Alberro, Rodrigo Crespo, and Jesús Santamaría.
Chair/Discussant: Rachel Kleinfeld, Carnegie Endowment for International Peace
The 2008 Constitutional Reform on Criminal Justice in Mexico - and its Impact on Due Process
— Alejandro Ponce, World Justice Project
Authoritarian Legacies: Persistent Patronage Networks and the Erosion of Merit-Based Selection in Mexico
— Julio Rios, CIDE Mexico City
Demand, Compliance and Independence
Chair/Discussant: Dan Rockmore, Dartmouth College
Discussant: Georg Vanberg, Duke University
The Demand for Judicial Services: An Exploration with WJP Survey Data
— Benito Arrunada, University Pompeu Fabrea
Expert vs. Popular Evaluations of the Rule of Law
— Brad Epperly, University of South Carolina
Blue Sky Session: Scholars, Data and the WJP
Elizabeth Andersen, World Justice Project
Alejandro Ponce, World Justice Project
Chair/Discussant: Elizabeth Andersen, World Justice Project
Populism and International Human Rights Institutions: A Survival Guide
— Larry Helfer, Duke University
External Enforcement of Rule of Law Norms
— Tom Ginsburg, University of Chicago
Economics of Constitutional Compliance
— Stefan Voigt, Hamburg University
International Enforcement and the Rule of Law
Chair/Discussant: Curtis Bradley, Duke University
OECD Anti-Bribery Treaty and the FCPA
— Rachel Brewster, Duke University
Rule of Law in the European Union: Mind the Gap
— Renata Uitz, Central European University
Download the agenda: