June 25 - 26, 2010 | IFRANE, MOROCCO
In a stimulating and youth-led atmosphere, over 150 prominent leaders throughout the Middle East and North Africa (MENA) region convened on June 25-26, 2010, at the World Justice Project's first major MENA Regional Rule of Law Conference at Al Akhawayn University in Ifrane, Morocco.
With the convergence of an unparalleled number of regional leaders, the MENA Conference represented an unprecedented opportunity to encourage regional commitment to Rule of Law; promote interdisciplinary understanding of rule of law and access to justice issues in the broadest sense (legal, political, social, and economic); and develop the cross-fertilization of different ideas among participants through the prism of national, regional, and international standards.
The MENA Conference debated rule of law issues relevant to the region with a topical focus on Access to Justice in a broad sense, exploring the political, social, economic, and cultural issues related to "rights" and "justice."
---
Resources: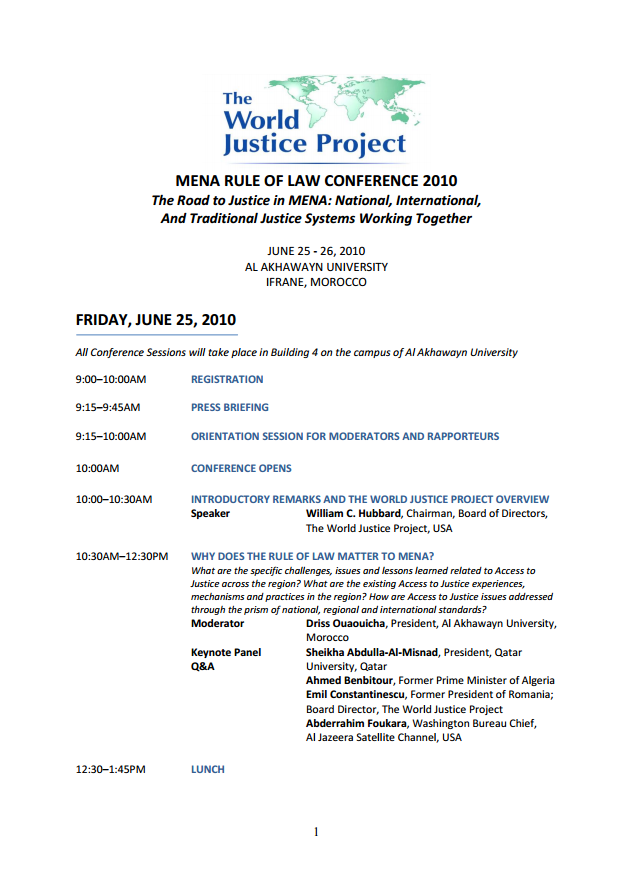 MENA Rule of Law Conference Agenda
MENA Rule of Law Conference Report