This program empowered female cotton pickers in Pakistan to negotiate for higher wages and improved working conditions. The Sindh Community Foundation organized multiple workshops for women on negotiation skills and labor rights, as well as district-level advocacy seminars, networking meetings, and a convention on economic justice for cotton-picking women. As a result of the program, more than 1,000 female cotton pickers in the Sindh province advocated for higher wages.
Challenge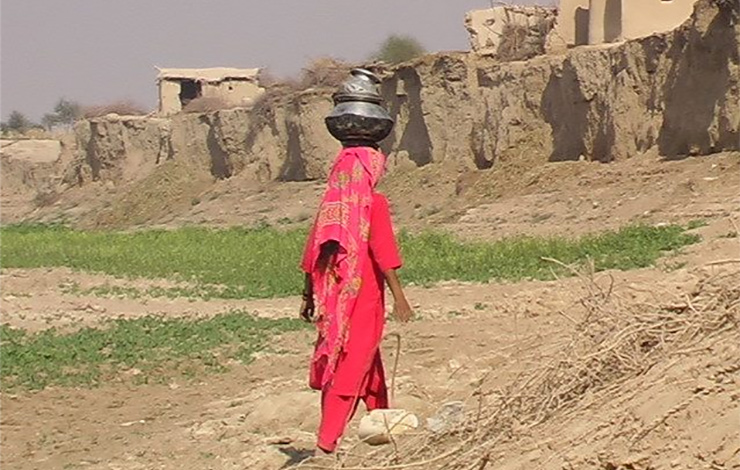 In Pakistan, a major portion of the economy is based on agriculture. In rural areas of Pakistan, women play a major role in agricultural production, livestock rising and cottage industries and remain busy from dawn to dusk to supply food to men in the fields, fetch water, collect fuel wood, and manage livestock. Women's participation is particularly high in cotton, rice and vegetables. Rice and cotton cultivation in Sindh and Punjab jointly account for more than one-third of women's annual agricultural activities.
As cotton is one of the major cash crops of Sindh province of Pakistan, Pakistan's most important industrial and export sector, textile and clothing (T&C) industry falls on women's shoulders. Women cotton pickers, under the scorching heat, work in the cotton fields of Southern Punjab and Sindh to harvest the raw material for T&C production. Although they are responsible for the industry's growth, they remain poor and exploited as their wages are extremely low, they have weak bargaining power and their health suffers from a hazardous working environment that involves excessive use of poisonous pesticides. In addition, many women cotton pickers face sexual harassment by the landowners and male cotton pickers, making their work environment even more dangerous.
The cotton pickers work on a seasonal basis and women get lower wages as compared to male cotton pickers for the same labor. Most of these women are illiterate and belong to very poor rural families with limited education, a lack of bargaining power, a lack of networking with other cotton picking women, and little awareness of human rights organizations in case of violation and exploitation of their rights. Unfortunately, the stakeholders including cotton growers, industrialists, the government, as well as the larger public remain unaware of their plight.
The Matiari district is one of the major cotton producing districts in Sindh, so there is need to address these issues with very effective advocacy for rural women to have economic justice, educate and build their capacities on various laws, increase awareness about the economic and labor rights within the country, and organize groups. SCF has identified 40 villages for initiating such an advocacy intervention for women.
Program Summary
SCF seeks to raise awareness, create dialogue between workers and employers, build the leadership capacities and organize the cotton picking women in 20 villages of UC Bhanoth District Matiari of Sindh province. The targeted group was identified through a social mobilization process of organization and discussion with women. Most women identified themselves as cotton pickers, and noted that they receive unequal and low wages. Women cotton pickers earn Rs. 60-100 per day and men earn Rs. 150-250 per day. As pesticides are used in cotton crops, women are often affected by asthma and skin diseases. SCF will arrange a seminar on this issue with a labour and economic rights, education, awareness and leadership training so that women can raise their voice on economic justice and gain increased confidence and bargaining power while negotiating with the land owners and contractors on wages for cotton picking. 
The project aims:
To organize 1000 cotton picking women into groups in 20 villages of Matiari district
To sensitize cotton picking women on economic and women rights for raising voice for equal wedges in the area
To build leadership capacities and bring cotton picking women into mainstreaming activism of economic rights
Trainings will increase their rights awareness and leadership capacities for advocacy. In addition, participants will learn negotiating skills and will increase their activism through providing capacity building events that highlight incidents of rights violations and any problems can be collectively addressed with land owners and other relevant stakeholders including the labour department. The project will also facilitate their networking with other CSOs working in the areas of human rights and labour rights at the local and national levels.
Through the knowledge, leadership, and advocacy skills these workers will be able to put pressure on landowners for violations of their rights such as unequal wages for women cotton pickers and improved protection and safety measures. The women will also learn about the Women Protection Act 2010 to protect working women in fields or public places. The groups of cotton picking women will have a good platform to organize other women in villages and network with other groups on issues with the labour department.
Impact
The impacts of this project are: 
1000 cotton picking women are organized, educated and have sufficient equal wages;
1000 cotton picking women have strengthened voices on women's economic rights protection and justice;
Cotton picking women's economic and labour rights are protected;
1000 cotton picking women have increased confidence and their bargaining power is increased while negating wages;
Cotton picking women are organized into groups by district to enhance networking; and
20 rural women leaders are developed and the voices of cotton picking women are amplified.
Partners
Partners include:
Alhmehran Welfare Association- women led organization
Sindh Rural Development Society's network of CBOs in the district will be partners in implementing grassroots training and seminars
Program Details
Active
Grantee