AMAN North Maluku (Aliansi Masyarakat Adat Nusantara)
To help indigenous communities in Banemo, Lelillef Sawai, and Togutil Dodaga understand and enforce their customary land rights, AMAN is training local paralegals.
Challenge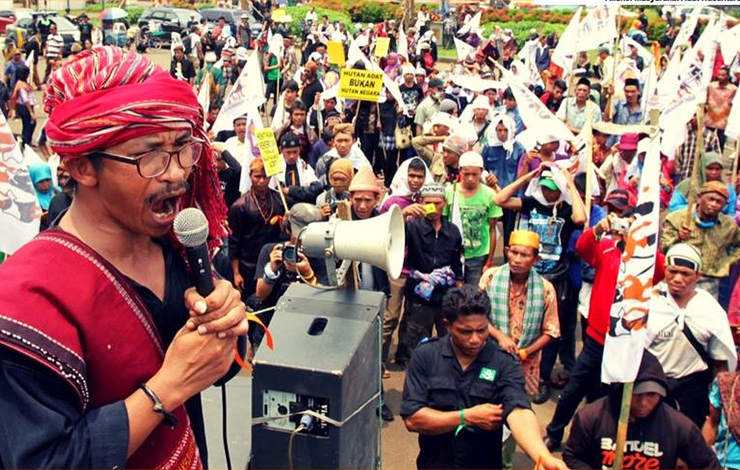 Customary communities in Indonesia often lack legal resources to protect themselves against the illegal acquisition of their land and natural resources. In the province of North Maluku, tribes involved in legal disputes over land and natural resources may lack proof of land ownership and rarely seek redress for violations of their land rights. Moreover, limited understanding of their legal rights, the cost of legal counsel, and distance to centrally located courts are also significant barriers in accessing justice, leaving customary communities in North Maluku powerless to protect their land.
Program Summary
This program is providing paralegal training to customary communities in the Dodaga, Banemo, and Sawai regions of North Maluku, Indonesia. AMAN North Maluku is building these communities' capacity to protect their land rights through the following activities:
Field Assessments to select paralegal candidates.
Basic Training on civil and criminal law, as well as the roles and rights of defendants and plaintiffs in legal proceedings.
Level I Training on collecting case information, filing a police report, and serving as an advocate in both criminal civil cases.
Level II Training to provide more in-depth information about legal entities such as the police department, Attorney General's Office, Constitutional Court, etc. Participants will also learn about proceedings in criminal, civil, and religious courts, as well as procedural law in the Constitutional Court.
Field Trips to view court proceedings and visit key institutions, such as an attorney's office and the police department.
Dissemination of customary community laws to inform the broader community about their basic rights.
Developing case action plans for three ongoing cases in the project communities. Paralegals will identify and collect documentation for three cases and develop a plan to address the conflict.
Impact
In addition to receiving paralegal training and creating action plans for resolving ongoing land disputes, the program is enabling participants in Dodaga, Banemo, and Sawai to advocate for their communities in instances of land rights violations. Furthermore, the customary communities as a whole will have increased knowledge of their land rights and avenues for seeking redress when those rights are violated.
Partners
KONTRAS
YLBHI
PPMAN
LBH North Maluku
KONTRAS and LBHI will provide expertise for the paralegal trainings. PPMAN, LBH North Maluku, and lawyers will be invited to serve as facilitators for later trainings in the program, and will conduct regular evaluations. Police, the Attorney General's Office, and other legal practitioners will also be invited to present on their respective institutions during the paralegal training sessions.
Program Details
Active
Grantee