Judges in Southern Africa are often faced with hostile and unstable political climates and work in under-resourced courts. In order to strengthen courts and support judges in the SADC region, this program provided judges with high quality academic research through virtual research assistants. The assistants would respond to the judges' email and SMS requests for additional resources or documents. The program also created a forum for judges in the region to build a safe environment and support network to discuss and debate issues of critical concern.
Challenge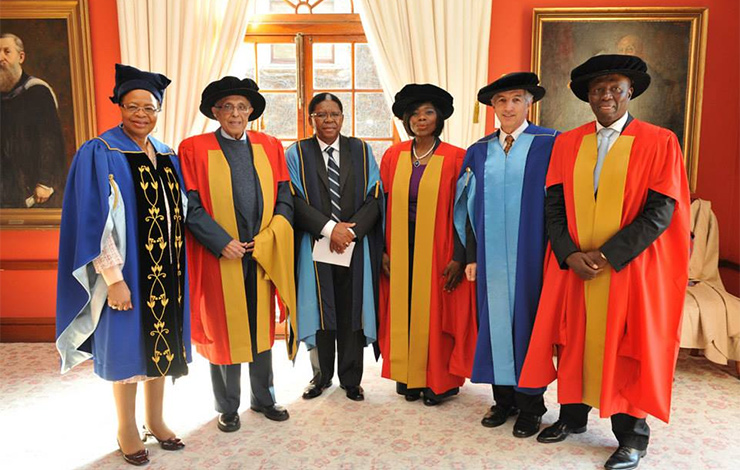 Judges in Southern Africa are faced with a variety of challenges. Although most Southern African countries have the formal institutional trappings of democracy, including courts with the power of judicial review and de facto judicial independence, they are frequently undermined by a weak respect for the rule of law and executive dominance. Some judges work in hostile and unstable political climates and regularly have their independence threatened. For example, recently Judge Thomas Masuku in Swaziland was forced to step down due to comments he made about King Mswati. In addition, Judge Hungwe in Zimbabwe was persecuted following his release of Beatrice Mtetwa on bail. In addition to working in harsh political climates, judges in Southern Africa are often forced to work in under-resourced, tough physical conditions. Courts are under-resourced both in terms of personnel and structurally, court libraries are non-existent or sparsely resourced, and judges receive little or no research support when deliberating their judgments.
An empowered and independent judiciary is critical to the rule of law and political and economic development in the region and the provision of strong external support through various means should support judicial institutions and the judges themselves.
Program Summary
The Democratic Governance and Rights Unit (DGRU) in the Department of Public Law at the University of Cape Town embarked on a project that supported judges in the SADC region. This project used the following means to build a team of judges:
Established regular fora where judges can discuss and debate issues of critical concern in an intellectually safe environment. The "SADC Judges Forum" hosted by the DGRU in October 2013 was attended by 16 judges from around the region. The need for such opportunities was strongly supported by all attendees. The Judge President of Namibia offered his full support to all the elements of the project that were discussed with the group and offered to host the next meeting.
Comparative research support. 
The U​niversity of Cape Town and Oxford Universities' "pro bono publico" group. Because of the program, Judge Dingake in Botswana received comparative research support from the Oxford group for a ground-breaking judgment he made in October 2012 on women's rights (the Mmusi vs Ramantele case) and has been very outspoken about how he valued this opportunity.  Based on the success of the Oxford University's work in this field, the University of Cape Town established an African-based group in partnership with the Oxford team. This group will accepts comparative research projects presented by judges that concern human rights or public law issues.
Internships. Research support was offered to judges through three month internships to students from UCT and Oxford. Student interns clerked for one of the SADC judges during their vacation period, thus gaining invaluable experience and providing judges with much needed support. 
Virtual Research Assistants. Discussions at the October meeting revealed that basic provision of law reports and relevant judgments were also needed. Generally, judges have little access to resources, especially when they are on circuit. Therefore, DGRU made a team of students (virtual research assistants) available to respond to email/SMS requests from judges. The virtual assistants helped with things like, locating relevant resources online or in the UCT law library, and sending copies of the documents to the judges via email or fax.
         3. Public support. Where needed, the program provided support through media                statements, particularly in situations where individual judges were threatened or               challenged. The Director of the Southern African Litigation Centre indicated that              this kind of support is meaningful to individual judges who are in challenging                     positions because just knowing that they have a team of supporters is valued. 
        4.​​​​ Academic Support. An annual academic support program of 4-6 weeks was               developed. The academic support program provided an opportunity for one                         judge to approach the University of Cape Town's Law faculty and engage in                     research of his/her choice, while being financially and institutionally supported.
Impact
The impact of this project included: 
Better quality judgments were produced;
Fewer delays in judgment writing;  
Mentoring of magistrates was improved through the provision of materials to circuit court judges, which may result in better quality of justice at the magistrates' court level;
Rule of law in the region was strengthened; and
Collegiality and sharing of ideas through annual fora strengthened the independence of the judiciary in the region.
Partners
The main partner for this project was the Oxford University Pro Bono Publico group. 
Program Details
Completed
Grantee
Malawi
Namibia
South Africa