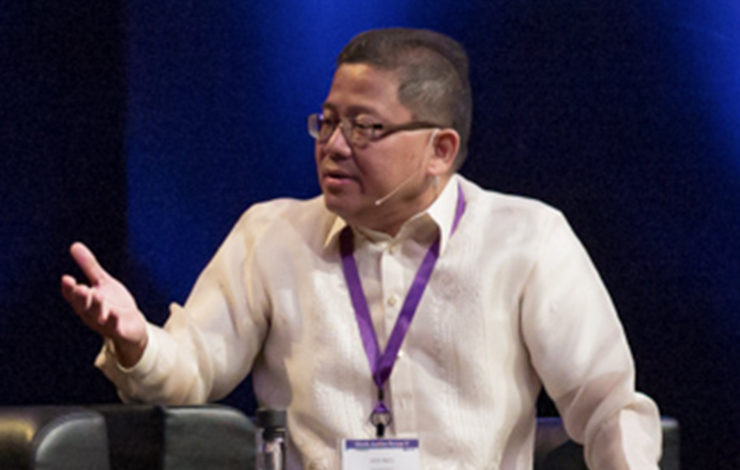 John Nery is a journalist from the Philippines. He is an Opinion Columnist at the Philippine Daily Inquirer, the country's largest newspaper, and from August 2014 to May 2017 served concurrently as editor in chief of Inquirer.net, one of the country's leading news sites. He is a member of the Inquirer's Editorial Council and represents the newspaper on the Executive Board of the Asia News Network. Mr. Nery also serves as Convenor for the Consortium on Democracy and Disinformation.
He has served the Inquirer Group in various capacities since joining it in 2001. He organized the Inquirer Presidential Debate in 2010 and the Inquirer Senate Forums during the 2013 midterms. He served as co-moderator of the first presidential debate in the 2016 elections. His analysis and reporting focus on politics, history, and the rule of law, but he also tracks climate change issues and the South China Sea disputes. He is active in efforts to help journalists organize themselves against attacks on journalism. 
He has received some of the top Philippine prizes for his investigative journalism and opinion writing. Two books he edited—"Into the Mountain: Hostaged by the Abu Sayyaf" and "Unholy Nation: Stories from a Gambling Republic"—won the National Book Award from the Manila Critics Circle. His "Revolutionary Spirit: Jose Rizal in Southeast Asia," a historical survey of the Philippine patriot's influence on Southeast Asian nationalism, was published by the Institute of Southeast Asian Studies (ISEAS) in Singapore and the Ateneo de Manila University Press in Manila in 2011. He was Visiting Research Fellow in ISEAS and a Nieman Fellow in journalism in Harvard.
Twitter: @jnery_newsstand
---
John Nery will deliver welcoming remarks ahead of Plenary Session #2: Success Stories.