World Justice Challenge 2021 Winner!
Accountable Governance
Project Pitch and Q&A
Watch Horizontal's World Justice Challenge project pitch and join WJP's World Justice Challenge 2021 Community Forum to ask questions to project representatives, explore additional resources, meet new colleagues, and more. Join the discussion and help us build stronger rule of law values, institutions, and communities around the world.
 
Project Summary
Tella is a documentation app for mobile devices. In challenging environments, with limited or no internet connectivity or in the face of repression, Tella makes it easier and safer to document events, whether that's violence, human rights violations, corruption, or electoral fraud.
Problem Statement
Tella exists to respond to the growing needs by civil society groups, human rights organizations, and journalists in the face of surveillance and censorship. In recent years, authoritarian governments around the world have beefed up their surveillance apparatus to intercept communications by civil society groups; track leaders and journalists; and harass, detain, and assault human rights defenders. This massive crackdown is taking place across the world, with few countries left untouched. 
The COVID-19 crisis exacerbated this situation by forcing more groups to move their activities to fully become digital, where more of their data is at risk of interception and tampering. The pandemic also gave governments excuses to repress civil society: indeed, under the guise of tracking the virus and enforcing confinement measures, they targeted vulnerable groups and civil society organizations fighting for transparency, accountability, and more rights and freedoms. Finally, the pandemic captured the attention of the world away from repression and attacks on rights, lightening the pressure on governments that are otherwise kept in check by the international community, international media, and international institutions. 
 
Project Description
Tella was launched in early 2019 to support election observation during the Nigerian General Elections, and has since been been used in other electoral contests, including two elections in Belarus. Tella has also been used to collect data on gender-based violence in Cuba, on human rights violations in Myanmar and West Papua, and on attacks on indigenous defenders in Brazil. 
Tella has three main objectives:
Protecting users who engage in documentation from physical and digital repression.
Protecting the data they collect from censorship, tampering, interception, and destruction.
Empowering individuals and groups to easily, quickly, and effectively collect data and produce high quality documentation that can be used for research, advocacy, or transitional justice. 
Tella's focus is on making robust security accessible to all, including users with limited tech capabilities. All the sophisticated work—such as on-device encryption, encryption-in-transit, disguising of the app, and quick delete of sensitive information—takes place in the background, with little or no need for users to understand those technical aspects. To an ordinary user, Tella feels like a relatively "normal" app. Our thinking is that if users can use WhatsApp, they should be able to use Tella. This means that Tella requires a minimal amount of training and is suitable for all populations.
Tella is designed to work in places where the internet is unreliable or where the government is able and willing to shut down the internet altogether. The app therefore supports fully offline data collection, so that users can document events around them no matter what the connectivity situation is like. They can then send the documentation to their organization once they reach a reliable internet connection.
Finally, Tella users can enable a feature to make the evidence they collect verifiable by capturing the device's identification number, geolocation, network data, etc. This makes it easy for journalists, lawyers, or international groups to verify the origin of the data and cross-check it with other information available.
Tella's impact can be measured in several ways. Users whose devices were searched by repressive forces while they were investigating human rights violations avoided being detained, assaulted, or worse, when those repressive forces were unable to find the evidence collected by the users. More generally, organizations deploying Tella have been able to publish evidence of violations in places where human rights documentation is dangerous, contributing to hold governments accountable and informing the world of abuse and corruption. 
 
Project Impact and Potential for Scaling, Replication, and Sustainability
Tella is open-source, meaning that the code is publicly available for anyone to audit and reuse. Tella has already been replicated in Nigeria and Belarus, where organizations used their own version of the app, customized for their local needs. The potential for replication is therefore very high. 
Tella was also designed to be interoperable with a variety of tools. For example, Tella supports the Open Data Kit (ODK) standard, and as such is compatible with the full ODK ecosystem. This means that organizations can pick whatever tool is best suited to their own specific needs. While ODK allows for structured data-collection (via forms and surveys), we are currently working to integrate with additional platforms that allow for other types of data-collection. One such platform allows for a quicker and more straightforward upload of photos, videos, and audio recordings. Those media files can also be "auto-uploaded" as soon as they are recorded, and "auto-deleted" as soon as the upload is complete. We are also exploring integrating with a relational-database, ensuring that organizations engaging in human rights documentation have a broad array of options to fit with their preferred methods of data-collection while taking advantage of Tella's advances security and privacy features. 
Finally, one key feature that draws organizations to use Tella is that the server-side component of the app can be self-hosted, meaning that the software is deployed on the organization's own servers. This way, they can retain full control and ownership over the data they collect, rather than have to trust a third-party. However, self-hosting requires either technical skills or financial resources. A key way of scaling Tella will be to make it easier for organizations to self-host, without any technical skills.
Submit Your Questions and Get Ready to Pick a Winner!
Representatives of World Justice Challenge 2021 finalist projects are on hand to answer your questions. Join our online Community Forum to engage with finalists, share resources, and network with other members of the rule of law community. Submit your questions now and get ready to vote for your favorite project—voting opens in mid-April!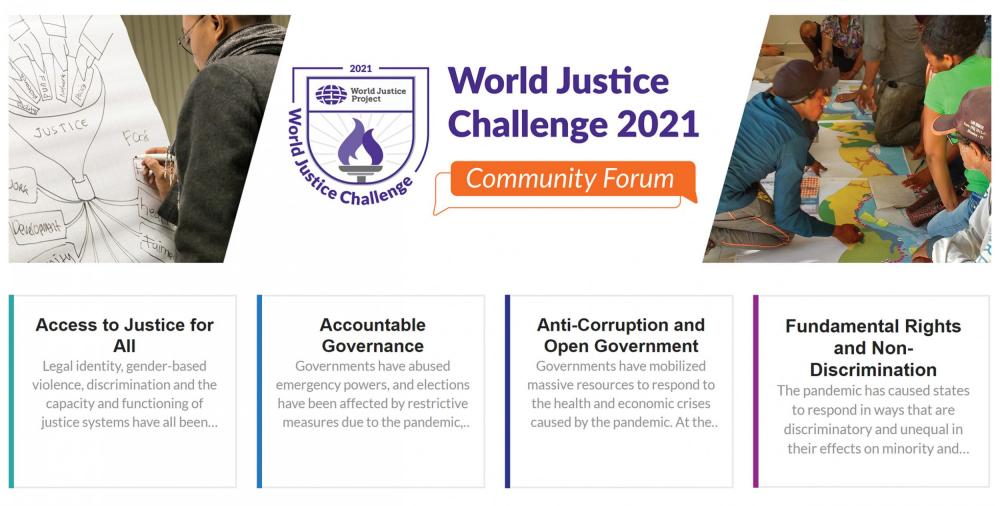 Program Photos
(Click to expand)