Project Pitch and Q&A
Watch Forest Peoples Programme's World Justice Challenge project pitch and join WJP's World Justice Challenge 2021 Community Forum to ask questions to project representatives, explore additional resources, meet new colleagues, and more. Join the discussion and help us build stronger rule of law values, institutions, and communities around the world.
 
Project Summary
The Shipibo-Konibo Indigenous community of Santa Clara de Uchunya is struggling against the dispossession and deforestation of their ancestral lands due to the aggressive expansion of oil palm. Since 2015, the project partners have supported the community, located in the Ucayali region of the Peruvian Amazon, to use legal and advocacy strategies to challenge land rights violations, agribusiness-led deforestation, and violence against community leaders who protect their territory. On this journey the community has secured several victories and restricted the expansion of the plantations, but they continue to strive for the full restitution and remediation of their lands.
Problem Statement
This project addresses the drivers of land rights abuses, deforestation, and violence against Indigenous Peoples in the Peruvian Amazon by providing legal, technical, and advocacy support to the emblematic case of Santa Clara de Uchunya, a Shipibo-Konibo Indigenous community located in Nueva Requena district in the Ucayali department of Peru.
Following the appropriation of their customary lands by land traffickers and a US-financed palm oil company in 2012, the community has taken a series of legal actions, using both criminal and constitutional judicial mechanisms to prevent further deforestation and oil palm expansion and ultimately, to ensure legal and practical control over their ancestral territory. Since 2015, the community has filed criminal complaints over deforestation, as well as a constitutional lawsuit demanding the restitution, collective titling, and remediation of their ancestral lands. If successful, this case will have legal implications for Indigenous Peoples across the Peruvian Amazon, where more than 20 million hectares of traditional lands remain untitled and highly vulnerable to appropriation.
Santa Clara has also made use of non-judicial redress mechanisms, presenting several formal complaints to the Roundtable for Sustainable Palm Oil (RSPO) against the palm oil company and its supply chain processors and buyers. The community has also taken their case before the Inter-American Commission on Human Rights (IACHR) on two occasions—in December 2018 and October 2020—obtaining precautionary measures for threatened leaders in October 2020, as well as obtaining positive interventions from the UN CERD.
While the ultimate restitution of their lands remains outstanding, the community has secured significant victories along the way, including partial recognition of their land rights; containment of the violence, multi-million dollar fines, and investor divestment; suspension orders from the Peruvian Government and RSPO; the annulment of fake land certificates and proposed oil palm expansion plans by regional government agencies.
 
Project Description
In January 2020, Shipibo leaders and other Indigenous rights defenders hosted a formal visit by the UN Special Rapporteur on the situation of human rights defenders to Ucayali, which further raised the profile of Santa Clara de Uchunya's case and led to the Rapporteur issuing strong recommendations to the Peruvian State to reduce risks to human rights defenders by guaranteeing Indigenous Peoples' collective territorial rights.
In February, the Ucayali Regional Government canceled a regional ordinance which sought to remove protections for more than 3.5 million hectares of rainforest and facilitate the invasion of indigenous lands. This policy reversal came following sustained pressure from Santa Clara de Uchunya, including securing an intervention from the UN CERD, which called upon the GOREU to protect community members and annul the law. 
In March, Norges Bank Investment Management, the world's largest sovereign wealth fund, divested all its holdings in Peru's largest consumer goods company, Alicorp, after the community and allies presented a complaint over the company's acquisition of palm oil from Ocho Sur P.
As Peru entered lockdown and COVID-19 surged through the Peruvian Amazon, the project pivoted toward supporting Santa Clara and neighboring communities with emergency medicines, hygiene, and food supplies. FECONAU continued to advocate for greater support to be provided to Indigenous communities facing the pandemic, including in a report presented to the UN Special Rapporteur on the rights of indigenous peoples and sought to hold the palm oil company to account for exposing workers and local communities to contagion, bringing criminal charges after authorities found that 90% of the plantation workers tested positive for COVID-19.
In the following months, the community undertook patrols to protect their forests and carried out the physical demarcation of lands covered by a recently won land title extension. 
In October, community leaders participated in a special thematic hearing with the Inter-American Commission on Human Rights over killings of Indigenous defenders and corruption. Later that month, the IACHR granted precautionary measures to Santa Clara and FECONAU. 
During the latter part of 2020, the project produced satellite analysis of the mounting deforestation in the community's lands surrounding the Ocho Sur P plantation, along with a detailed report providing a rights-based analysis of the drivers of violence and deforestation in the Peruvian Amazon, including Santa Clara as a key case study. The community was also at the centre of both national and international campaigns (#Fuera8Sur and #LandRightsNow), gathering 14,000 signatures pressuring Peruvian authorities to end impunity for the palm oil company and return their lands.
In December, Peru's environmental regulator (OEFA) ordered Ocho Sur P to suspend its operations and ordered the company to pay a USD 2.5 million fine over environmental damages.
 
Project Impact and Potential for Scaling, Replication, and Sustainability
While Santa Clara de Uchunya's struggle is remarkable, the injustices the community are resisting are emblematic for hundreds of Indigenous communities across the Peruvian Amazon. A positive outcome to Santa Clara's constitutional lawsuit would mark a powerful legal precedent in favor of Indigenous land rights. This would open pathways toward establishing interim safeguards for untitled Amazonian Indigenous territories, which cover more than 20 million hectares in Peru—an area larger than Senegal—protecting them against appropriation and destruction by the expansion of illegal logging and mining, industrial agriculture, cattle ranching, oil and gas extraction, road-building and infrastructure construction, and narcotics production. In the context of the severe economic crisis linked to the pandemic and increasing pressures on Indigenous lands and forests, beginning this transition becomes even more pressing.
The community is also challenging a significant legal barrier that impedes Amazonian communities' access to justice, demanding that the State recognize them as affected parties with regards the deforestation in their territory. Current Peruvian laws prevent communities from participating in and giving momentum to criminal investigations and disregard how frontline community members are actively organizing to patrol and protect their territories and forests—something which the State does not do—despite threats and violence. In this way, Santa Clara is also challenging the State to actively support community-led forms of forest protection, for instance by supporting and promoting territorial monitoring carried out by Indigenous communities and organizations and their administration of Indigenous justice. Such shifts are crucial if Peru is to meet its current climate change commitments and halt the further destruction of the Amazon forest.
Leaders from Santa Clara and FECONAU have also actively engaged in international solidarity networks, such as the Zero Tolerance Initiative to end violence in supply chains, where they continue to share their strategies for accessing justice and advancing Indigenous self-determination and land rights.
The project has highlighted how the key ingredients needed to sustain and support a successful long-running legal and advocacy struggle also include solidarity actions and work to address and strengthen community economies and livelihoods, particularly where these have been weakened by land loss and destruction, as well as the continuity of strong partnerships with local and international organizations. Communities' ability to sustain themselves in the long struggle for justice and land rights against opponents with outsized power and resources is intimately linked to addressing these questions. 
Ultimately, Santa Clara de Uchunya's determination to continue struggling for justice and the restitution of their ancestral territory is fundamental to sustaining this work, which is guided at all points by the principles of Indigenous Peoples' autonomy and self-determination.
Submit Your Questions and Get Ready to Pick a Winner!
Representatives of World Justice Challenge 2021 finalist projects are on hand to answer your questions. Join our online Community Forum to engage with finalists, share resources, and network with other members of the rule of law community. Submit your questions now and get ready to vote for your favorite project—voting opens in mid-April!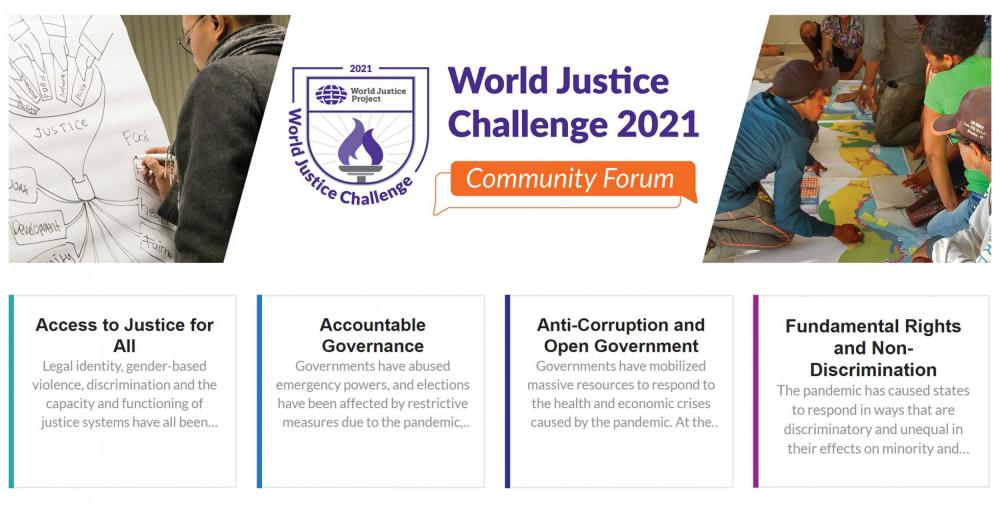 Program Photos
(Click to expand)