Project Pitch and Q&A
Watch rAInbow: Chatbot to Support Victims of Domestic Abuses' World Justice Challenge project pitch and join WJP's World Justice Challenge 2021 Community Forum to ask questions to project representatives, explore additional resources, meet new colleagues, and more. Join the discussion and help us build stronger rule of law values, institutions, and communities around the world.
 
Project Summary
rAInbow is a social enterprise that has built an intelligent, ethical, and scalable solution to tackle the lack of support and the loneliness faced by domestic violence survivors.
rAInbow launched in January 2018 with a chatbot that is able to deliver tailored conversations to women facing domestic abuse in South Africa. Survivors and those at-risk can access the rAInbow chatbot through Facebook Messenger to have a conversation with Bo. Bo is a friendly and empathetic bot that is able to provide training on the signs of abuse and resources available to those in need via a conversational exchange online.
Problem Statement
Gender-based violence (GBV) is a global pandemic that affects one in three women in their lifetime. One characteristic of gender-based violence is that it affects women and girls of all socio-economic backgrounds: this issue needs to be addressed in both developing and developed countries. 
The numbers are staggering: 35% of women worldwide have experienced either physical and/or sexual intimate partner violence or non-partner sexual violence. Globally, as many as 38% of murders of women are committed by an intimate partner. On average, a survivor attempts to leave seven times before finally leaving. Communities or neighborhoods providing more cohesion, support, and trust are more likely to have more cases being reported. 
Around 98% of women facing GBV also experience financial abuse, in which their partner controls all of the money. Often, these survivors also are restricted from jobs. The lack of financial resources—to sustain, and to obtain help-services—may act as a big psychological barrier from seeking help (even when resources, for example shelters, are in actuality being provided by several organizations). 
Since COVID-19, 76% of services we have consulted said they've had to reduce service delivery. Out of the 76 respondents who discussed remote working, 67% cited tech challenges in delivering services remotely under the current circumstances, and 42% are concerned about client safety whilst using phone or online services. Twenty-two percent of services say they aren't able to effectively support adult survivors of abuse at the moment. 
We need to be innovative and responsive now, as research tells us this will continue to be the case beyond COVID. rAInbow is a proven intervention that's active in South Africa, helping with information that may be required before taking the next step. Within two years, rAInbow has reached over one million conversations with 20,000 users. 
 
Project Description
rAInbow helps people understand early signs of abuse, realize what is normal and what is not, ask questions about their rights, and hear about people who were in similar situations through personalized storytelling. It signposts users to relevant third-party services based on the problem described. 
Many survivors are unable to see the signs of abuse in their personal relationships. The tools for reporting, such as helplines and support groups, are limited in resources, and, therefore, are often seen to only work 9am-5pm Monday to Friday, providing no support on weekends or during the evenings. 
Survivors may also feel at stake when speaking to the police or representatives of social justice institutions. Underreporting is particularly common with vulnerable groups such as illegal immigrants, orphan children, refugees, sexual minorities (LGBTQIA+), and people living with disabilities. 
rAInbow, on the other hand, sees an increase in conversations by 10% on Saturdays and 15% on Sundays, hinting at the significance of having such support on non-working days and off-hours. This new service supports individuals who can't access traditional support systems due to multiple barriers, finances, safety, or service overload, as described in question one. 
rAinbow also provides an alternative intervention to individuals who don't want to access these support systems but still need help, improving the overall effectiveness of service delivery for domestic abuse in the South Africa. rAInbow's impact to date:
Developing specialized content, including free legal advice and information for survivors who experience additional barriers, such as immigration and LGBTQIA+ needs.
Translate the data from rAInbow's conversations to inform policy and support positive change. rAInbow has the ability to gather evidence that has never before been recorded or known. This data can assist policy makers, law enforcement agencies, and civil society to deliver services that are more user-oriented.
Develop partnerships with frontline services and resources that are able to support women that are interested in leaving an abusive situation.
Training of the natural language processing model, based on real time data from users, to better address their needs as they navigate the content. This allows Bo, the chatbot, to be more friendly and personable. 
The most effective aspect of the project is that the information is digital and anonymous, which allows women to feel safe and comfortable disclosing their current situation.
 
Project Impact and Potential for Scaling, Replication, and Sustainability
rAInbow is interested in scaling our solution to the UK to support the hundreds of thousands of women that face domestic violence. An estimated two million adults experienced DA in 2018 in the UK. Existing specialist services support only an estimated 200,000 survivors a year (10%), and even at this rate are hugely over capacity. More than 90% of these survivors are female, Fifteen percent are Black, Asian or minority ethnic (BAME). Four percent are disabled. One percent are LGBTQI+. 
We are currently developing partnerships with a number of specialist organizations working at the forefront of action against gender-based violence and gender justice. Among those are SafeLives (safelives.org.uk), a UK charity dedicated to ending domestic abuse, for everyone and for good, and Chayn (chayn.co), an award-winning project helping women experiencing abuse through open and free multilingual resources about online safety, mental well being, law, and finance. 
rAInbow has been looking for funding to support this scaling project and is currently submitting applications for a three year project to develop and deploy the chatbot in the UK. To reach the intended 300,000 women over three years, rAInbow's team needs to create content tailored for the UK context of GBV and upload it to the chatbot on Facebook Messenger and a customizable web app, and deploy it through local government, grassroots organizations, and NGO service providers.
rAInbow is a replicable solution that can be translated and the content adapted to suit the needs of projects in new geographies. The rAInbow team has the deep knowledge into how a chatbot can be used by domestic violence survivors to understand the resources available to them and to feel supported. We then partner with local organizations to adapt the content to the local context and help onboard users. For a new geography, not only would the content need to be adapted, but so would the natural language processing (the ability for the bot to read and understand text). This would be to cater to different slang or colloquials of a new area.
Lastly, to deploy in a new context, women need to be made aware of the services. rAInbow does this through a two-pronged approach: using service providers to tell women that are seeking resources about the bot, and through social media paid ad campaigns. We have seen great successes with both methods.
Submit Your Questions and Get Ready to Pick a Winner!
Representatives of World Justice Challenge 2021 finalist projects are on hand to answer your questions. Join our online Community Forum to engage with finalists, share resources, and network with other members of the rule of law community. Submit your questions now and get ready to vote for your favorite project—voting opens in mid-April!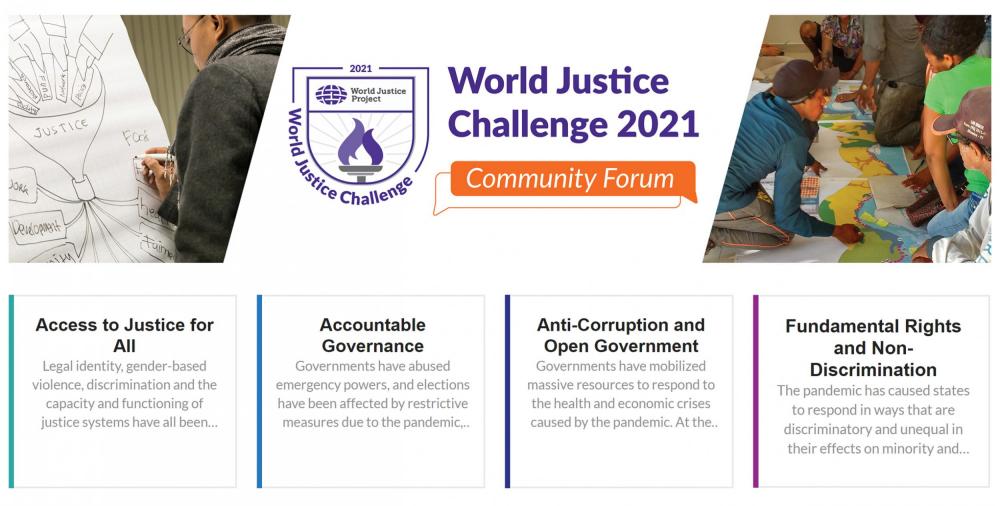 Program Photos
(Click to expand)