Project Pitch and Q&A
Watch LegalApp's World Justice Challenge project pitch and join WJP's World Justice Challenge 2021 Community Forum to ask questions to project representatives, explore additional resources, meet new colleagues, and more. Join the discussion and help us build stronger rule of law values, institutions, and communities around the world.
 
Project Summary
LegalApp is a free consultation web tool that uses simple language that is easy for citizens to understand, offering information on how to carry out formalities, procedures, or "justice routes" for conflict resolution. In addition, through a directory of institutions, it indicates the authority or entity that users can go to, with their exact location, and allows scheduling appointments for legal advice in specific cases, with allied legal clinics at universities throughout the country.
Problem Statement
The COVID-19 pandemic made it necessary to decree national lockdown, making it difficult to provide state services as usual, including legal services. Therefore, national, regional, and local authorities adopted new regulations to provide the required public services through technology. People got confused because, in the vast majority, they were not used to accessing justice services electronically, and did not know how to access to the legal system.
In that sense, we saw an opportunity to assist people through LegalApp, so they could access legal services while COVID-19 restrictions were in place. LegalApp explains, in a simple and accessible language, justice services offered and communication channels for each justice operator, so people could keep receiving justice services, and, at the same time, not only officials but also users of the legal system were health–protected. In addition, during mandatory lockdown, home violence cases rose in Colombia, specifically toward women. It was necessary, then, to publicize the attention route or the step-by-step procedure to prevent this type of violence.
 
Project Description
The Ministry of Justice and Law decided to take advantage of the features of LegalApp tool to create a strategy that would allow inclusion of new specific content, related to new procedures and regulations due to COVID-19 pandemic; promoting justice access to citizens, as well as boosting alliances with legal clinics of several universities around the country, to provide virtual free legal advice services, guaranteeing safeness for the users, and strengthening, in the same way, legal practice of law students.
The impact that LegalApp has had is shown by the increase of web visits to legalapp.gov.co, reaching one million users last year (from five million reported in 2019 to six million visits in 2020). Also, the platform increased in number of tools, reaching 778, allowing more assertive responses to people's legal needs, in line with the challenges presented around the world, related to COVID-19 pandemic, and promoting the use of technology and virtual media. Having a web platform that clearly explains, with updated information, the procedure or justice route to solve a conflict is essential for citizens to enforce their rights.
Observing the great challenges that were experienced specifically in terms of domestic violence during the pandemic, LegalApp created a bond with law schools and their legal clinics, so they could chat about these types of cases, as well as promote legal actions in Family Commissariats, which began the virtual services process due to a regulation by the Ministry of Justice and Law.
 
Project Impact and Potential for Scaling, Replication, and Sustainability
LegalApp is a tool that allows people to know the steps required to access legal services in a free, easy, and practical way, allowing the App to adapt its content to a specific audience, such as children, youth, women, or rural area populations, with specific legal needs. One of the biggest App achievements is the clear and friendly language, that allows people to comprehend the processes without any technicality, showing a big potential for user—and content—increase, since the App can address other society problematics.
In the same way, it is a big plus that the App was designed to answer everyday conflicts and announce relevant legal services that can solve them, avoiding the need for users to navigate different platforms, and saving time and money in queries. 
The tool structure facilitates the replication in other contexts, especially in public services, such as health services, and others that implicate assertive communication between an entity and users. In terms of IT, this tool adapts itself to web version, phone app, or offline software. 
This tool has replication potential, given the fact that many of its users are reported from other countries such as USA, Spain, and Mexico. Its sustainability results are evident after its five years of service to Colombians. The number of LegalApp users keeps going up!
 
Featured Resources
Key Project Links
Social Media: Facebook, Twitter
Website: legalapp.gov.co
Submit Your Questions and Get Ready to Pick a Winner!
Representatives of World Justice Challenge 2021 finalist projects are on hand to answer your questions. Join our online Community Forum to engage with finalists, share resources, and network with other members of the rule of law community. Submit your questions now and get ready to vote for your favorite project—voting opens in mid-April!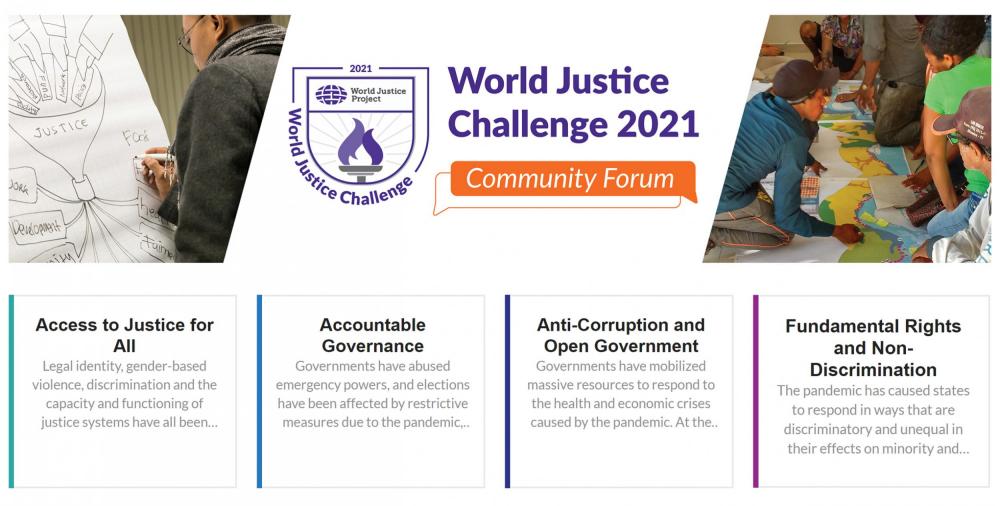 Program Photos
(Click to expand)