Project Pitch and Q&A
Watch SEMA's World Justice Challenge project pitch and join WJP's World Justice Challenge 2021 Community Forum to ask questions to project representatives, explore additional resources, meet new colleagues, and more. Join the discussion and help us build stronger rule of law values, institutions, and communities around the world.
 
Project Summary
SEMA drives accountability for public services by offering a real-time citizen feedback mechanism for the public sector. In collaboration with the Ugandan Ministry of Justice (JLOS) and the Kampala City Authority, SEMA has rolled out a set of tools to empower citizens to report inefficient services, corruption incidences, and poor service delivery according to the standards of good practice at (a.o.) police stations and health facilities in Kampala. During COVID-19, SEMA monitored the use of these services by citizens and the gaps that appeared due to malfunctioning COVID policies—bringing this back to the national Taskforce.
Problem Statement
The public sector in Uganda is failing Ugandans. Millions of citizens in East Africa rely on public services that are inefficient, ineffective, and corrupt. Studies show the poorest pay the highest proportion of their incomes in bribes at public offices (Transparency International, CPI 2020). Eighty-eight percent of Ugandans experience a justice problem every four years (HiiL, 2017). This means that at least 37 million Ugandans may rely on a justice service in their lifetime, such as victims seeking help from the police or trying to solve a land dispute at a magistrate court.   
These services remain crucial to the lives of citizens during COVID. However, many services became inaccessible to citizens due to restrictions and the closing down of offices. Justice problems do not stop during a pandemic—in fact, gender-based violence increased. Moreover, during COVID there was a significant increase in citizens who had a negative experience with the police (SEMA COVID 19 report, 2020). The upholding of lockdown measures came with a lot of resistance by citizens who depend on daily activities for their income. 
The new Justice Sector Development Plan has 'satisfaction with front-end justice services' as one of their main outcome indicators (JLOS SDP-V, 2020). However, they don't have the tools to measure this indicator. During COVID, this has become even more crucial as public services are more needed than ever. Citizens lack effective ways to raise their concerns about public service delivery in their own communities. Generally, the only way in which citizens in Uganda can give feedback at their local offices is through a manual suggestion box. Despite SDG 16.6 insisting governments regularly measure the satisfaction of citizens with public services, no effective system has been introduced to hold public services accountable. This is where SEMA comes in.
 
Project Description
By 2030, all public service providers in East Africa will use citizen feedback to improve their service delivery. This is our Big Hairy Audacious Goal. SEMA improves the functioning of the justice system in Uganda by giving citizens a voice to provide immediate feedback after interacting with a service, like a police station, a court, or a health facility. 
The SEMA feedback system is comprised of three elements: 
SEMA places locally-produced, low-cost, high-visibility feedback devices at public offices. At every office where SEMA is installed, citizens can press a smiley face: from angry, all the way to thrilled (5 point scale). 
SEMA trains and deploys a team of student data collectors to conduct on-site customer satisfaction surveys, to match the device data. Ugandan students are trained and provided with better job prospects after a 9-month intensive traineeship.
During COVID we have tested and improved our remote feedback data collection through a USSD feedback platform, WhatsApp surveys, and an Interactive Voice Response (IVR) line where citizens can anonymously record their feedback message.
In a period of two years, SEMA's system gathered feedback from over 90,000 citizens at 26 different public offices in Uganda. During the outbreak of COVID, we were invited by the Kampala City Authority to also measure satisfaction at the six biggest public health facilities. 
To close the feedback loop, SEMA provides this feedback in actionable formats to local offices and decision-makers. For the lowest-ranked officers, these are digestible one-pagers that show through infographics the 'score' of that office (compared to other offices), which is complemented with average waiting times, corruption rates, and qualitative data such as concrete suggestions for improvement. 
For policy-makers, we look at trends in the data and show them the bigger picture. During COVID we published a 'service needs during lockdown' report and three trend reports for the police and health facilities. Moreover, we convened an online civic leadership dialogue, including Ugandan COVID-19 task force members, to discuss how to act upon the latest feedback of citizens on public services during the pandemic. All of these results can be accessed via our website. 
As a result of our measurements and reports, we have seen that with public institutions where SEMA collects and reports feedback, 80% reduce their waiting times, 67% increase their satisfaction rates, and concrete, measurable improvements are made to reduce incidents of corruption and poor service delivery.
 
Project Impact and Potential for Scaling, Replication, and Sustainability
Replication is a key function of the SEMA system, due to our low-cost technology and the research traineeship allowing students to learn about data collection and run customer feedback surveys. Our devices are made in Uganda and therefore don't require import costs. Our expansion of mobile tools that allow for on-distance surveying, such as USSD and WhatsApp surveys, has the potential to reach more citizens in the future. Finally, we continue to test how we deliver reports and influence public servants with the help of behavioral science research—reports and best practices that we share widely with the international community. 
Our scalability plan consists of the following three avenues that aim to make SEMA widely applicable and sustainable due to a mix of government, private, and donor funds:
In the public sector, SDG16 remains an important pillar of international development. We have not yet come across effective and scalable product offerings that can measure SDG Indicator 16.6 (proportion of population satisfied with their last experience of public services) and use its data to inspire improved services. JLOS has recently procured SEMA on a paid contract to introduce our system at 40 police stations, magistrate courts, immigration, and registration offices in four regions of the country—planned to roll-out in March 2021. 

Although we focus on the justice sector, our system has been deployed in the health sector in Uganda too. During COVID-19, the Kampala City Authority procured SEMA on a paid contract to measure at health facilities. As a result, many health centers are improving their services, such as making it more clear when COVID tests can be run and what the new opening times of health departments are. This makes us confident that the need for our tools and their potential for impact spans across various sectors, not only the justice sector.
 

SEMA has already completed user experimentation and interviews with leading Ugandan corporates and has determined a significant level of interest in using the SEMA system in the private sector. When citizens see SEMA at both the police station and their local bank, they're more likely to perceive the system as an unbiased, ubiquitous technical platform rather than as a tool of the government. These deployments will lead to service revenue that helps SEMA expand.
 
Expansion to new countries in East Africa. We are currently preparing to introduce our systems in Kenya in 2021.
Submit Your Questions and Get Ready to Pick a Winner!
Representatives of World Justice Challenge 2021 finalist projects are on hand to answer your questions. Join our online Community Forum to engage with finalists, share resources, and network with other members of the rule of law community. Submit your questions now and get ready to vote for your favorite project—voting opens in mid-April!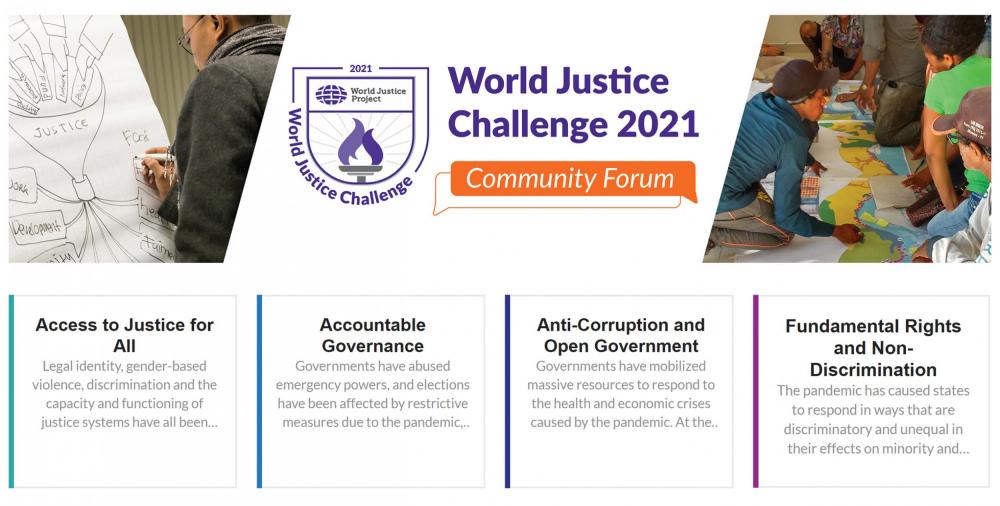 Program Photos
(Click to expand)