World Justice Challenge 2021 Winner!
Anti-Corruption and Open Government
Project Pitch and Q&A
Watch ASJ's World Justice Challenge project pitch and join WJP's World Justice Challenge 2021 Community Forum to ask questions to project representatives, explore additional resources, meet new colleagues, and more. Join the discussion and help us build stronger rule of law values, institutions, and communities around the world.
 
Project Summary
The Constructing Transparency project combats systemic corruption in Honduras by evaluating government institutions' human resources, purchases, and results. The project has seen widespread impact in increasing institutions' compliance with transparency standards, resulting in better education, security, and social services for Hondurans. During COVID-19, the project used its innovative methodology to audit $80 million of national emergency purchases—COVID-19 tests, ventilators, biosecurity gear, and mobile hospitals. Its findings helped fuel an outcry for transparency and sparked changes in national decision-making that continue to benefit public health.
Problem Statement
Honduras ranks as one of the countries most distorted by corruption. This historic corruption and mismanagement of public institutions denies justice to Honduras' poor and marginalized, who depend the most on government systems. Political interference in the police force jeopardizes public safety and means another neighbor's murder goes unsolved. Non-meritocratic hiring of teachers weakens children's education. As public funds intended for security, teachers, and medicines end up in the pockets of the political and economic elite, Hondurans lose more trust in their institutions. 
The devastating impact of corruption is clear in the public health system, which serves some 80% of Hondurans. ASJ's investigations have frequently documented counterfeit medicines, subpar ambulances, unvetted suppliers, price-gouging on life-saving medicines, and the awarding of contracts without proper procurement. As a result, many Hondurans lack access to continuous care, cannot fill their prescriptions, and wait months for surgeries. 
ASJ works to repair these violations of the rule of law so that broken systems of education, security, and health truly serve Hondurans. For over five years, our audits of seven government institutions have identified corruption and helped civil servants implement improvements that benefit the public. 
With the arrival of COVID-19 in Honduras, the government authorized more than $200 million in emergency purchases—COVID-19 tests, ventilators, biosecurity gear, and mobile hospitals. This move allowed government spending outside of usual regulations, intensifying the risk of corruption that would threaten the public's trust and health. Honduras was already starting behind in the fight against COVID-19, and ASJ knew these purchases were essential to minimize suffering. We immediately sought to ensure the government responded to the pandemic transparently and effectively.
 
Project Description
In April 2020, ASJ took action to audit INVEST-H, a government agency tasked with $80 million of Honduras' emergency purchases. This critical audit was inspired by our years of experience evaluating human resources, purchases, and contracts at Honduran institutions like the Ministry of Health and Education.  
To evaluate whether INVEST-H's purchases upheld transparency and Hondurans' best interests, ASJ organized four teams that studied the price, quality, delivery time, and selection process behind their emergency purchases. One team in Honduras probed the history of selected providers, evaluating potential shell companies, conflicts of interest, clients, and past accusations of wrongdoing. Meanwhile, a team of Honduran experts in government procurement reviewed the documented rationale behind each purchase, along with quality verifications. Finally, teams in Honduras and the U.S. contacted companies in North America, Asia, and seven Latin American countries to compare quotes and delivery dates.  
ASJ published its findings and recommendations in a series of six reports and two press conferences from May to August 2020. We documented INVEST-H's overvalued purchases, failure to consult medical experts, and late-arriving goods. In one egregious example, officials paid 100% in advance for overpriced and low-quality mobile hospitals that arrived months late. In another case, the government bought 250,000 incomplete COVID-19 tests that spoiled in improper storage. Our livestreamed press conferences about these findings were viewed over 23,000 times and covered by 46 media outlets. In a time of confusing and competing messages, our research-based work helped fuel a national outcry for transparency.  
ASJ also shared its COVID-19 findings with the Honduran Attorney General's office for further investigation. In the weeks that followed, INVEST-H's director resigned and was arrested on charges of misuse of public funds. Honduras' government then invited the UNOPS to take charge of prioritizing and executing COVID-19 purchases. This response brought immediate harm reduction to hundreds of thousands of Hondurans. Before our investigation, INVEST-H purchased ventilators without a plan for how best to set them up in hospitals. Now, it has access to an ASJ proposal for how to distribute personnel and equipment to ensure each ventilator is properly operated. Before our reporting, multiple government orders of masks, gloves, and gowns for doctors were canceled due to mismanagement, and others arrived months late. Now, there is a new opportunity to ensure Hondurans' medical professionals are equipped to fight the pandemic. 
 
Project Impact and Potential for Scaling, Replication, and Sustainability
Over five years of various social crises and changes in political leadership, ASJ's methodology for auditing government institutions has remained relevant and sustainable. Since our first evaluation, we have expanded our monitoring to seven institutions, and continue to receive high interest from other ministry leaders. In 2020, ASJ also started an extensive review of Honduras' national electric energy company, an institution described by the World Bank and IMF as the largest risk to Honduras' economic future. A recent independent evaluation attributed ASJ's sustainability to its status as a "well-respected, independent civil society organization using a systematic methodology." 
As Honduras continues to battle COVID-19, ASJ informs the public and advocates for the Attorney General to hold INVEST-H accountable. Now as Honduras prepares to receive its first batch of COVID-19 vaccines, ASJ will monitor for transparency and prioritization of those most-in-need.  
Transparency International (TI) chapters across Central America have expressed interest in replicating our methodology for their countries' emergency COVID-19 purchases. In 2020, Guatemala and El Salvador TI's chapters collaborated with ASJ to publish analysis of their countries' cases of COVID-19 purchases and call attention to their systems' weaknesses and strengths.  
We see the need for our project to address crises beyond the pandemic. Hurricanes Eta and Iota devastated Central America in November 2020 and left Hondurans with destroyed homes, roads, schools, and farms. Honduras needs to invest an estimated $2–10 billion in recovery, and it needs to do so transparently and effectively. ASJ's evaluations can help hold the government accountable to serving those facing elevated vulnerability. Our team is already working on gaining access to national purchasing data, which would allow for real-time transparency analysis of reconstruction efforts. 
In the face of the pandemic, two hurricanes, the demolition of other transparency bodies, and an upcoming election, ASJ's work is now more important than ever. We work so that the challenges of this year can be a turning point in Hondurans' vision of living in a country defined by peace, justice, and transparency.
 
Featured Resources
Key Project Links
Social Media: Facebook, Twitter, YouTube, Instagram
Website: asjhonduras.com
Submit Your Questions and Get Ready to Pick a Winner!
Representatives of World Justice Challenge 2021 finalist projects are on hand to answer your questions. Join our online Community Forum to engage with finalists, share resources, and network with other members of the rule of law community. Submit your questions now and get ready to vote for your favorite project—voting opens in mid-April!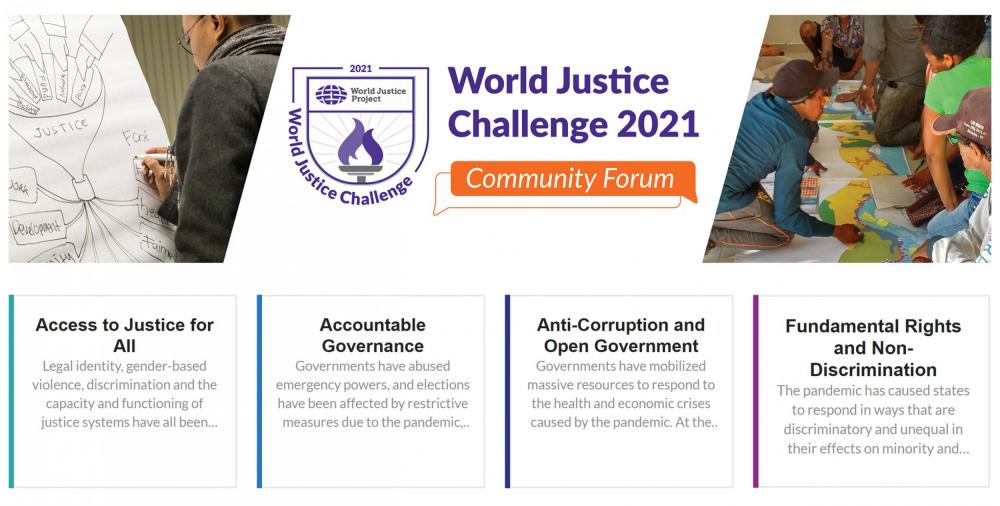 Program Photos
(Click to expand)