Project Pitch and Q&A
Watch Burundi Bridges to Justice's World Justice Challenge project pitch and join WJP's World Justice Challenge 2021 Community Forum to ask questions to project representatives, explore additional resources, meet new colleagues, and more. Join the discussion and help us build stronger rule of law values, institutions, and communities around the world.
 
Project Summary
Amidst Burundi's widespread human rights abuses and COVID-19, Burundi Bridges to Justice (BBJ) is a pioneering human rights organization that provides thousands of vulnerable accused individuals with early access to pro bono legal counsel. With no formal government-sponsored legal aid structure in Burundi, BBJ has built a functioning criminal legal aid model, implemented via its Defender Resource Center in Bujumbura. The organization's Scaling Up Model includes plans to open three new Defender Resource Centers strategically placed to assist all prisons and provincial courts in the country. This will significantly work toward preventing investigative torture and fostering increased due process rights.
Problem Statement
Access to justice and due process of law are limited in Burundi, despite being guaranteed by the Constitution. In 2015, the country faced a major political crisis, which led to many human rights organizations being forced to close or flee. Since then, there has been an increase in disappearances, arbitrary arrests, and routine investigative torture in detention centers. According to the 2020 report of the UN Human Rights Council's Commission of Inquiry on Burundi, serious human rights violations persist in prisons. Prisons are grossly overcrowded; in September 2020, the Office of Penitentiary Affairs estimated prisons at 334% over capacity. COVID-19 has exacerbated these already terrible conditions, putting the incarcerated at great risk. Because of limited virus testing capacity, the pandemic's impact remains undocumented. However, prisons do not have adequate sanitation systems, drinking water, or ventilation to help mitigate virus spread.  
There is no formal government-sponsored legal aid structure in Burundi. The vast majority of the detained are desperately poor and unable to afford a lawyer. Accordingly, they languish in prison for months or even years. As of September 2020, 46% of the incarcerated were pretrial detainees. Because many human rights NGOs have ceased operations in Burundi, there is little assistance for detainees. There also remain relatively few criminal defenders; indeed, when IBJ/BBJ started, there were only 70 lawyers in the country of nine million. Additionally, given inadequate training, criminal defense lawyers are ill-equipped to effectively represent their clients. Moreover, many communities have little or no knowledge of their legal rights—such as the right to legal representation and a fair trial—making them particularly vulnerable to cruel and unfair treatment by security forces.
Project Description
Given the volatile atmosphere in Burundi, the BBJ approach includes: 
Emphasis on collaboration, not conflict
Focus on prevention, not redress
Help for ordinary citizens, not just dissidents
BBJ activities are carried out in collaboration with government justice sector actors. In 2017, the organization signed an MOU with the Ministry of Justice (MOJ) that allows BBJ lawyers to enter every prison in the country and an MOU with the General Inspectorate of the National Police to provide human rights training to Judicial Police Officers. 
BBJ's work focuses on three objectives: 
Providing free, quality legal aid to poor, vulnerable, and marginalized people living in Burundi: In addition to representation by staff lawyers, BBJ has put in place a network of 20 pro bono lawyers, as well as a specialized team of 11 women lawyers who offer pro-bono legal defense to female detainees. Work is administered out of BBJ's Defender Resource Center in Bujumbura. Eighty-three percent of BBJ cases have resulted in positive outcomes for detainees. Routine visits by BBJ legal defenders to police lockups have resulted in the immediate release of 180 arbitrarily arrested individuals. 
Training the legal profession to provide legal aid: BBJ has trained 293 of Burundi's approximately 1000 lawyers—nearly a third of the country's entire legal profession. 
Pioneering systemic access to justice change: BBJ holds regular justice roundtables that have been attended by hundreds of justice stakeholders and resulted in key justice policy recommendations. 
COVID-19 Actions: When in April 2020, prisons were shut to the public—including lawyers—to mitigate virus spread, BBJ's advocacy actions with the MOJ and Prison Affairs Directorate (PAD) led to the MOJ instructing courts to expedite criminal cases and PAD permission for lawyers to gain access to detention facilities nationwide. BBJ also distributed soap to 5,000+ detainees.
BBJ activities since the pandemic's start include: 
Pro bono counsel for 378 cases, with 287 cases resulting in positive outcomes.
30+ visits to police cells, resulting in immediate release of 51 detained individuals. 
Formal mentoring of 40 young lawyers.
Radio awareness campaign on rights of the accused reaching over one million people.
 
Project Impact and Potential for Scaling, Replication, and Sustainability
BBJ pioneers a model for access to justice provision in even the most challenging political and legal environments. In its quest for sustainable legal aid, BBJ takes a multi-pronged approach built on trust, capacity building, partnership and the co-creation of solutions. BBJ's collaborative approach with a wide variety of justice stakeholders—including government and the police—is critical to its success. While other human rights organizations have been forced to close or flee in Burundi, BBJ has been able to build a scalable model for legal aid that ensures access to justice for Burundi's neediest and most marginalized.  
BBJ incorporates a feasible theory of change that moves lawyers from full fee, to low-bono or pro-bono. Through project involvement at a reasonable level of commitment (approximately one-two cases every month), BBJ helps defenders make time for "social responsibility" and creates a self-reinforcing network of defenders doing the same.
BBJ's Scaling up Roadmap includes these objectives: 
Open three new regional Defender Resource Centers (DRCs) to provide legal representation to vulnerable accused/incarcerated in Burundi. These DRCs will be strategically placed to assist all prisons and provincial courts in the country. 
Mobilize defenders to provide early legal assistance to vulnerable accused from the time of arrest, which will act as a powerful torture prevention tool. DRCs will provide space for defense lawyers to prepare their cases and meet with clients and witnesses. 
Train judicial police officers so they have the skills to conduct investigations without violating fundamental human rights.
Organize Justice Roundtables open to all justice sector actors to propose practical reforms to increase access to justice.
Conduct legal rights awareness campaigns aimed at vulnerable populations to empower individuals to know and assert their rights.
Strengthen coordination between the judicial police and the prosecutor's office to decrease rate of arbitrary arrests and due process rights violations at police stations. 
Geographical Approach for Scaling Up: BBJ plans to scale-up its early access to counsel model nationwide by first gradually expanding activities in the three provinces that share the notorious Mpimba Prison. The BBJ model will then be scaled-up to other provinces until the entire nation is served.
Submit Your Questions and Get Ready to Pick a Winner!
Representatives of World Justice Challenge 2021 finalist projects are on hand to answer your questions. Join our online Community Forum to engage with finalists, share resources, and network with other members of the rule of law community. Submit your questions now and get ready to vote for your favorite project—voting opens in mid-April!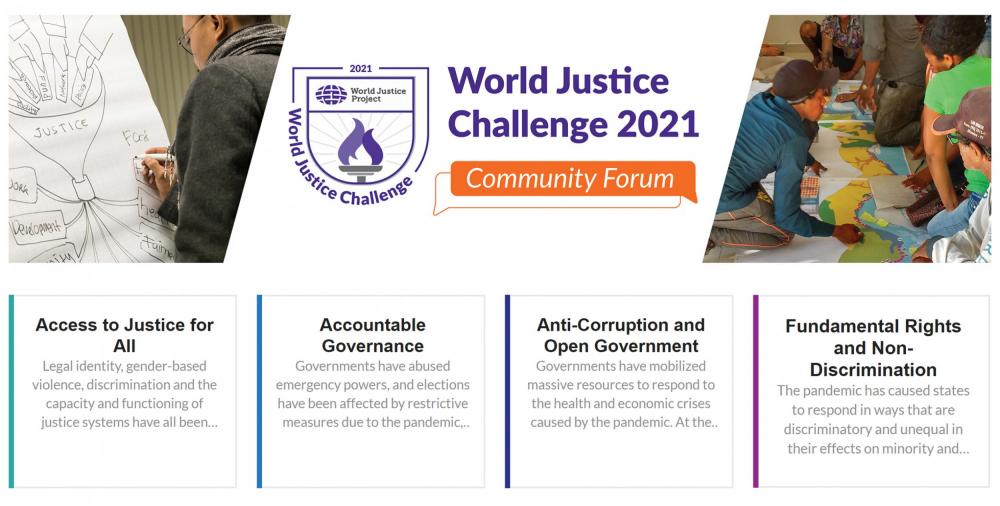 Program Photos
(Click to expand)