Project Pitch and Q&A
Watch Global Justice Solutions' World Justice Challenge project pitch and join WJP's World Justice Challenge 2021 Community Forum to ask questions to project representatives, explore additional resources, meet new colleagues, and more. Join the discussion and help us build stronger rule of law values, institutions, and communities around the world.
 
Project Summary
Ability to Pay is an online platform that allows indigent defendants with a legal financial obligation to request alternative sanctions instead of facing incarceration because they are unable to pay their fines and fees. The platform allows defendants to provide their details to a judge without the intimidation of a courtroom or, in the case of undocumented immigrants, exposure to detainment. The tool uses poverty guidelines and other calculations to make recommendations to judges. A judge can accept the recommendations or modify recommended sanctions—community service, reduction of fines, or an extension—and send an electronic judgement order via email. 
Problem Statement
According to the Brennan Center for Justice, there are approximately 10 million people who owe $50 billion or more in legal fines and obligations in the USA. A significant number of them are behind bars and incarcerated because they were unable to pay their dues and have defaulted on their legal financial obligation. This has caused a lot of issues around procedural fairness across the country and overcrowding of jail populations. The Ability to Pay tool is designed to alleviate this issue for people as well as provide a tool for judges to determine an individual's ability to pay in a more fair and just manner. The problem this project looks to resolve is the Debtor's Prison phenomenon, or, more specifically, the impact that court fines, fees, and bail have on impoverished individuals. Impoverished individuals are likely to face significant consequences for being unable to pay their legal financial obligations. Some of the consequences include wage garnishment, loss of driver's license, arrest, and incarceration. For impoverished individuals, these consequences can have a long-lasting impact including job loss and continuing cycle of poverty. Individuals with little job security generally don't have the same flexibility as those with stable jobs to leave work and petition the court for a reduction of fines in person. The COVID-19 pandemic has only exacerbated the mentioned problems. Many individuals are experiencing job insecurity, including job loss. This has led to more people being unable to pay excessive legal fines such as traffic fines. Additionally, as a result of COVID-19, most courts have closed their doors, and individuals cannot come in person to petition a fine reduction, payment plan, and/or a payment alternative. Even if courts were to remain open, individuals, especially those with pre-existing conditions, would still be unable to petition the court in person.
 
Project Description
Following the guidelines provided by the National Task Force on Fines, Fees and Bail Reform (lead by the Conference of Chief Justices and COSCA in the USA), GJS developed the online Ability to Pay application which automates the guidelines and provides a recommendation to a judicial officer about the defendant's ability to pay their legal financial obligations (LFO). The recommendation is based on the defendant's current situation, which includes their socio-economic status, income, expenses, and where they fall in the federal poverty guidelines (the minimum standard is <125% of federal poverty guidelines, which is set by the Department of Health and Human Services, Washington, DC). The tool addresses the ability to pay problem by allowing an individual to submit an Ability to Pay petition remotely and electronically in consideration for a reduction, payment plan, and/or payment alternative of their legal fines and fees. The Ability to Pay tool prompts the defendant through a set of guided questions and allows the defendant to provide any information that may be relevant for the judge to consider. 
Once answers are submitted, the judge is able to review the defendant's response and use the tool's built-in recommendation engine, which looks at the different data points for the defendant such as income and expense ratio, state benefits (SSI, food stamps, etc.), federal poverty guidelines, etc. to help the judge determine whether an alternate sanction such as a fee reduction, payment plan, and/or a payment alternative is proper. 
The tool provides recommendations automatically for selection by the judge. The judge then adjudicates on the matter virtually without the need for the defendant to be in court. This is especially important during the COVID-19 pandemic, as it allows all individuals to safely submit and assess the information and provide any necessary fine reductions, payment plans, and/or payment alternatives. It also allows the court to continue to serve the public without having to come in person, ultimately improving access to justice.
As of December 15th, 2020, there have been over 12,000 Ability to Pay petitions submitted and adjudicated in the state of California. The project has improved its users' lives by allowing individuals to electronically and virtually submit Ability to Pay petitions without having to attend court. More importantly, the project has led to reduced incarceration rates and overcrowding of the jail population, which is a systemic problem in the criminal justice system in the US.
 
Project Impact and Potential for Scaling, Replication, and Sustainability
The debtors' prison phenomenon that this project addresses, among other things, is not just in the USA but exists throughout the world. As such, the project has a great potential for scaling, replication, and sustainability. In the state of California, the number of Ability to Pay petitions continues to grow (over 12,000 have been filed and adjudicated already). Although the Ability to Pay tool was initially launched for the five pilot counties in California, the Judicial Branch is planning to implement this tool state-wide in the coming years. California has a population of approximately 40 million, and 11.8% are in poverty, per the US Census Bureau 2019 Survey. The tool can be applied in other states and countries in the world, especially where the access to justice gap is huge and where economic hardships are prevalent. 
The Ability to Pay project is sustainable, economically and socially, to implement throughout the country and even the world. The National Task Force on Fines, Fees and Bail reform by the Conference of Chief Justices and COSCA has been spearheading this change nationally in the USA. Also, the Price for Justice Grant by the Department of Justice (DOJ) has been encouraging such projects. The Judicial Council of California is currently funding implementation of the project through the state's judicial funds to ensure sustainability of the project in the long run.
The Ability to Pay tool is extendable to use cases where an electronic submission and adjudication is proper and/or where a request for a payment reduction, a payment plan, and/or an alternative to payment can be made. A judge can review the declaration of facts and other evidence provided online and adjudicate electronically—guilty, not-guilty, or dismiss. If a party is found guilty, they can use the tool to request the aforementioned payment alternatives. The tool allows courts to continue to provide avenues to justice, even during the pandemic. 
According to the Brennan Center for Justice, "there are over 10 million people who owe more than $50 Billion or more in debt resulting from their involvement in the criminal justice system in the USA." This has led to mass incarceration in the country. We hope that our project can make a significant impact in the United States and around the world and lower incarceration rates due to lack of one's financial ability to pay or socio-economic status.
 
Featured Resources
Key Project Links
Social Media: Twitter, LinkedIn
Website: globaljusticesolutions.us
Submit Your Questions and Get Ready to Pick a Winner!
Representatives of World Justice Challenge 2021 finalist projects are on hand to answer your questions. Join our online Community Forum to engage with finalists, share resources, and network with other members of the rule of law community. Submit your questions now and get ready to vote for your favorite project—voting opens in mid-April!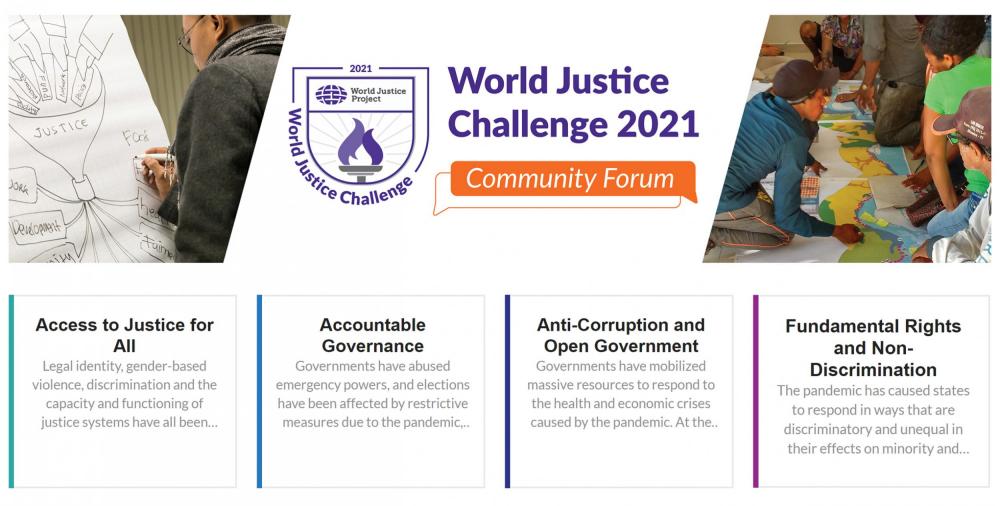 Program Photos
(Click to expand)