Ganhando Terreno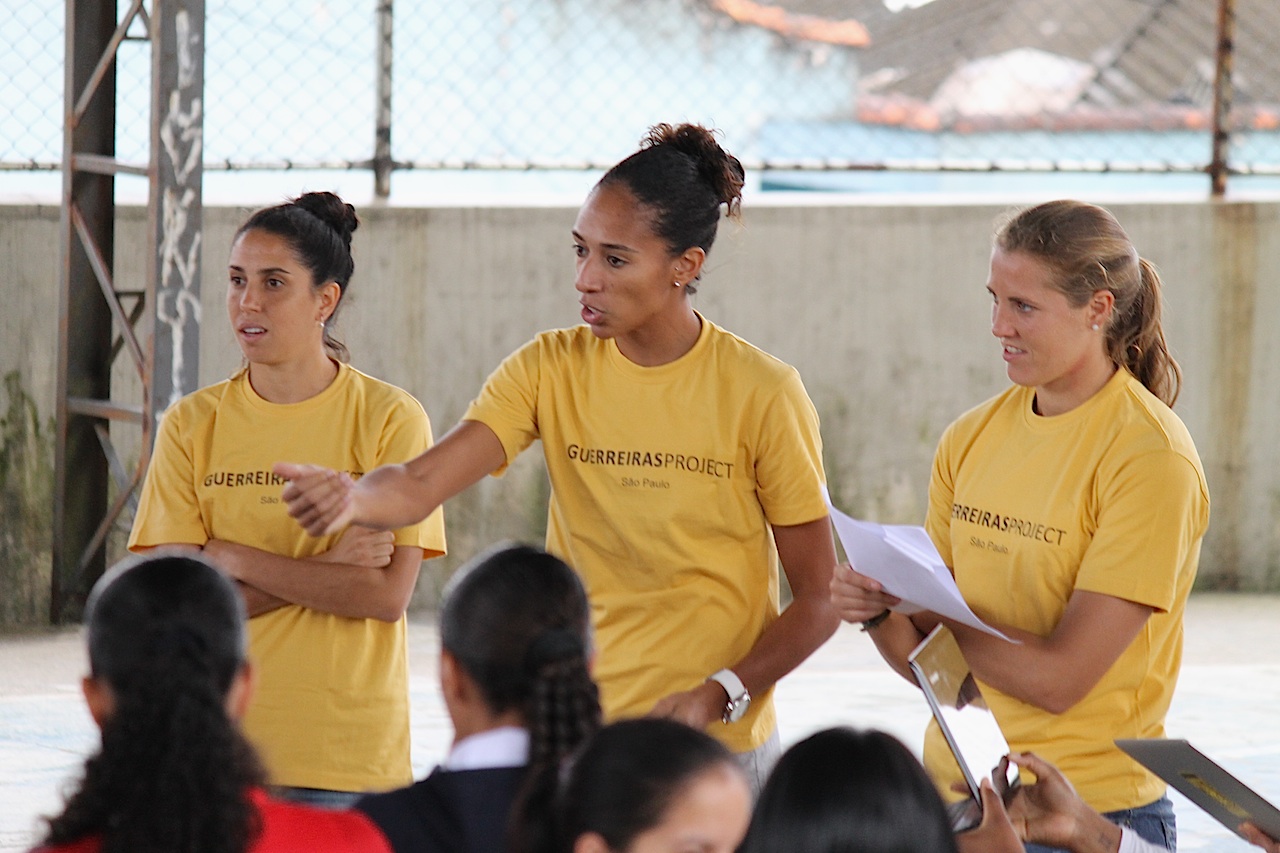 Promoting Women's Empowerment & Gender Justice through Futebol
Challenge
Futebol (soccer) is Brazil's most popular sport. Yet the women who play it have long been confronted with significant gender prejudice and have been invisible within mainstream Brazilian culture. These are women who have had to constantly fight for space and recognition within a male-dominated world and a historically male profession. They call themselves guerrerias ('female warriors') on account of this struggle.
One of the main manifestations of this prejudice in their daily lives as professional players is a lack of access to their rights as women and as workers. Female players in Brazil are undervalued in their profession, under-respected, under-supported, exploited and disempowered. Very few of them sign contracts, receive a minimum wage or get worker benefits and many confront a myriad of worker's rights issues including exploited informal labor, lack of protections, job insecurity and sexual harassment. They feel lucky just to have a team to play on, so the harassment, the below-minimum wage salaries, the late pay checks, lack of health care coverage and medical treatment, lack of proper equipment, lack of field space, lack of proper food and nutrition remain unspoken and accepted.
These informal, unstable, unreliable and precarious work conditions also mean that female players have little or no job prospects after their futebol careers are over. Because they often have no formal contracts while playing, female players often have no proof of income for the majority of their careers. This further limits their possibilities in the formal labor market and formal sector post-futebol, and makes something as simple as opening up a bank account nearly impossible for them.
Program Summary
The Guerreiras Project (GP), an international gender justice initiative, launched the Ganhando Terreno World Cup 2014 Campaign to promote women's empowerment, employability and gender justice through futebol in Brazil. The Men's FIFA World Cup 2014 in Brazil is a rare and precious opportunity to raise awareness around issues of gender justice, employability and women's rights. GP believes that the platform of sport is a compelling and effective tool to carry out this work during this historic moment in time when the sport and the nation will become the center of the world's attention––'um palco para jogar, um campo para mudra,' (a stage to play, a field for change), as the Guerreiras say. The project will have three parts:
Part I- Capacity building of female players: GP trains some of the most inspirational, motivated and strong, yet largely invisible, women in Brazil – female futebol players – to take their leadership skills from futebol to advocates for women's rights and worker's rights. Twenty-four female futebol leaders from across Brazil will receive this training, learning about work standards, entering and exiting contractual agreements, minimum wage, worker benefits, and protection from discrimination. The training certifies them as Guerreiras Ambassadors who are qualified to apply and teach this material in workshops with their local community and peers. The training curriculum includes Guerreiras Project gender justice training; Themis's worker's rights and women's rights; and sport-to-employability content. Each Guerreiras Ambassador will be connected to a Gurreiras Mentor, a professional business woman at the end of the training.
Part II- Ambassadors lead futebol feminino workshops: Trained ambassadors will lead Futebol Feminino Workshops with women's professional, semi-professional and amateur futebol teams on women's rights, gender justice and employability. Workshops will target female players' ages 18-35 years old in São Paulo and Porto Alegre, Brazil. As outputs, participants will be connected to the Guerreiras Employability Rede and gain access to mentors and resources for learning to negotiate contracts, writing CV's, learning to do job interviews; and internship opportunities.
Part III- Voices of participants recorded and amplified: Ambassadors records the voices of participants as they reflect on the dialogue over the course of the workshops and their voices will be registered at the Centro da Memória do Esporte (CEME) at the Federal University in Rio Grande do Sul (UFRGS). CEME will bring in innovative technological interventions and a multimedia platform that will amplify these voices so that they have the potential to reach and impact thousands of female players and their communities across the country.
Impact
Before, during and after the World Cup, each Guerreiras Ambassador will carry out workshops in her local area with local women's teams. Each workshop requires two ambassadors and will be three hours in duration. These ambassadors will directly impact around 600 females between the ages of 12-35 over the course of the year (30 players/team x 20 teams = 600 players).
GP focuses on Civil Justice and Fundamental Rights factors at the individual level and societal level. According to the WJP Rule of Law Index, civil justice in Brazil is not effectively enforced and when it is, it is subject to extremely unreasonable delays. The lack of enforcement and unreliability of this system, especially for those from the lower classes (the background of many female players) further reinforces a sense of hopelessness towards potential positive change and disempowerment that is pervasive among female players. In terms of fundamental rights, according to the WJP index, GP will address the situation of labor rights being effectively guaranteed, and promoting equal treatment and absence of discrimination- issues that female futebol players face in the informal labor sector.
At the individual level, it is about empowering female players. These women will build voice, skills, knowledge and training for understanding and accessing their rights as workers and as women. They will learn about their fundamental rights to equal treatment and the absence of discrimination; about legal contracts, employability laws, and how the informal and formal labor market affect women's futebol. They also will learn how to find their voice through their individual and collective stories of prejudice and empowerment from the game, and how they can turn these stories into tools for change. They will discuss how their experiences from the field in leadership, communication, goal-setting, teamwork, accountability, trust, and cross-cultural understanding are all skills that can be applied off the field to the workplace and empower them in their lives beyond futebol.
At the societal level, it is about 'moving minds' and addressing deep-rooted assumptions, biases and harmful stereotypes about women's roles and capabilities. Female players' presence in this male profession can challenge norms and traditionally narrow scripts of femininity and masculinity. These women are at forefront of a struggle. Beyond the individual skills that these women gain, they can serve as powerful role models and pioneers of women's rights in society. Their presence in a historically male arena can deconstruct paradigms, promote justice and challenge the cultural stigma that has long limited women in society. This project will give them the tools to speak up and be heard and seen.
Partners
The Guerreiras Project will act as a lead for this program. They will carry it out with support from their partner in the South of Brazil, 'Center on the Memory of Sport' (CEME) within the Universidade Federal do Rio Grande do Sul. The Center will work with them to document, monitor, and evaluate their impact, as well as to amplify the voices of players. They will also be supported by Themis, a Brazilian NGO that offers legal rights training to female community leaders. Themis will provide the Guerreiras Ambassadors with material and training on women's rights and worker's rights to build their capacity as powerful advocates of social change. Themis recently played a significant role in the new legislation on domestic workers rights in Brazil that passed last year in 2013, and they will use this as a lens for teaching female players about basic worker's rights. Women Win will provide support on the digital story-telling material for the training with Ambassadors.
Project Details
Program Status:Active
Program Type:Grantee
Region:Latin America & Caribbean
Program Countries:Brazil
Rule of Law Index Factors: Fundamental Rights (Factor 4), and Civil Justice (Factor 7).
Issue Areas: Education, Human Rights, Women and Girls, and Youth.