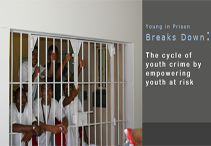 Each year, thousands of children living on the streets of Bogotá, Colombia, are arrested and end up in juvenile detention centers. In 2013, with a seed grant from the World Justice Project, the Dutch-based Young in Prison partnered with Colombian-based Familia Araya to help incarcerated youth change their relationship with the rule of law.
Institutionalized and incarcerated persons often come from disadvantaged populations – demographics where access to justice is limited, and ability to affect change through political processes restricted to the point of disenfranchisement. With few resources and little guidance, those without a voice turn to criminal activity as a means of making their grievances heard, threatening the rule of law in their communities. Over the past several months, Young In Prison, through local partner organization Familia Ayara, has been working to empower youth in Colombian detention centers through workshops utilizing rap music, break dance, and graffiti art as tools for learning how to investigate and vocalize rule of law issues. The program currently operates in three detention centers in Bogota and meets with the youth once per week.
Through the hip-hop program, youth write, compose, and perform their music as a way to express their ideas and opinions, instead of internalizing or turning to criminal means to do so. There are powerful messages and calls to action in the lyrics, instilling a sense of community and commitment to lawful society. One performer raps, "Deja las armas para el rap" or "Put down your weapons for rap."
Many of the youth also experience stigma due to their criminal record, affecting their self-esteem and connections to society. As one participant explained, "I came here feeling very bad about myself. I felt bad and I felt like I wasn't supported from my family. I feel like this center helped me a lot...." Participants are taught to discover new talents through easily relatable art, which boost their sense of self-worth. The workshops provide a time to bond and find a sense of communal support, which helps reduce risks for criminal recidivism and returns to incarceration though these new support systems.
The participants are accustomed to being disenfranchised, making it even more difficult for them to reintegrate to society upon their release. The program eases them back into their community through open performances where the students can showcase their work to family, friends, and locals. It portrays the youth in a positive light, reducing the stigma attached to them and including them in community celebrations. Another participant said, "As we are all human beings, we all commit mistakes. I think that this is a new opportunity for us to move forward and I want to thank la Familia Ayara for bringing us this opportunity." The performances are a second chance for the youth to show others that they can be contributing members of society and to start fresh in their lives.
The program has seen impressive success and even caught the attention of the Ministry of Justice. During the process of developing a new national policy strategy document on the prevention and care for juvenile offenders, Familia Ayara was invited to join the planning committee, and to serve as advisors and speakers to the launch of the report. This was produced through CONPES (National Council for Economic and Social Policy), which is a governing body that coordinates economic policy for the country and is chaired by the President of Brazil. Not only does this demonstrate the rich, multidisciplinary approach to collaboration, but is a testament to the work of Familia Ayara through the Young in Prison program.
To learn more about the project and to enjoy some of the hip-hop performances, watch this video produced by Young In Prison: (Spanish Only)
******
Photo Credit: Insert/Young in Prison
Tags: