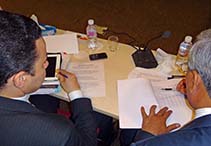 Relying on strong and longstanding partnerships with local organizations, The World Justice Project convened a taskforce of Tunisian leaders from business, government and civil society in Tunis on May 28, 2012, to assess rule of law opportunities and challenges facing Tunisia during the ongoing reform process. Throughout the spring of 2012, the WJP worked closely with the World Federation of Engineering Organizations (WFEO), the Arab Center for the Rule of Law and Integrity (ACRLI), and the Hague Institute for the Internationalisation of Law (HiiL) in the planning and execution of the Tunisia workshop "Strengthening the Rule of Law in Tunisia." The WJP collected fresh data from its Rule of Law Index and produced a detailed report on the rule of law situation in Tunisia. The WJP Rule of Law Index® measures adherence to nine major factors on the rule of law, such as open government and fundamental rights, and is based on rigorous polling of 1,000 ordinary citizens and independent assessments by legal experts.
More than two dozen representatives of civil society, government, the media and business attended the workshop. They began work with a close examination of the Index report prepared by the WJP and proceeded to identify a list of rule of law-related issues the Tunisian government and Constitution most needs to address. Workshop participants debated the current rule of law transition in Tunisia in light of the Index findings and international examples of constitutional transition processes in Afghanistan, South Africa and Colombia, presented by WJP Board Members Ashraf Ghani from Afghanistan and Mondli Makhanya from South Africa, and WJP Executive Director Juan Carlos Botero. The outcome of this engagement was a document both produced and owned by Tunisians, which discusses the notion of the rule of law as it applies to Tunisia's historic transition. A taskforce comprised of multidisciplinary leaders emerged from the workshop to finalize these recommendations and formally present them to the press.
Armed with this document and using the WJP's Index data as an entry point, Tunisians petitioned their government in face-to-face meetings at the highest level, including with President Moncef Marzouki, Minister of Justice Noureddine Bhiri, Second Deputy Speaker of the Constituent National Assembly, Arbi Abid, and Judge Jaouida Guiga, President of the First Instance Court, to present the recommendations of the taskforce. The WJP continues to work with key members of the taskforce to advance these recommendations, and a long report for members of the constitutional assembly is currently in production.
To view conclusions and recommendations of the workshop, click here.
Tags: