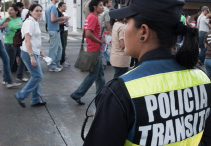 Although much of Latin America is currently experiencing a period of economic growth and political stability, Central America is in the midst of a security crisis which threatens to undermine governance and the rule of law. Guatemala, El Salvador, and Honduras, whose boundaries form the region's "Northern Triangle", have become the epicenter of violent youth gang activity. While the gangs are a major source of violence, other factors driving crime include drug trafficking (Central America is the main corridor for drugs moving from South America to Mexico before reaching the U.S.), and the high availability of firearms following the region's civil wars during the late 20th century. These challenges have combined to push the violence to incredibly high levels. According to the United Nations Office on Drugs and Crime (UNODC), Honduras and El Salvador had the world's highest and second highest homicide rates in 2011, with 86 and 71 homicides per 100,000 inhabitants respectively.
In March, I traveled to El Salvador to help evaluate a youth violence prevention project as part of my graduate program. From speaking with numerous people, both in the capital, San Salvador, as well as the countryside, it is clear that the violent crime associated with youth gangs is deterring much needed economic investment and harming everyday life in numerous ways. The gangs, or "maras" as they are called in Spanish, have adapted to increasingly harsh law enforcement policies and control large amounts of territory. The gangs generate substantial amounts of revenue through kidnappings, robberies, and extortion. Although a truce between the country's two major gangs, the Mara Salvatrucha and Calle 18, has recently been implemented, the situation points to the need for various improvements to the region's rule of law systems. In Guatemala, El Salvador, and Honduras, criminal justice reforms are urgently needed. In particular, prison systems in all three countries are in need of a major overhaul. Not only are they severely overcrowded, as touched on by this recent New York Times story, but they are often so poorly managed that they have become breeding grounds for new gang membership.
In terms of gang prevention, which was the focus of the project I was evaluating in El Salvador, there is a need for ongoing multidisciplinary collaboration to engage young people who are at risk of joining gangs. Public officials, both at national and local levels, and leaders from civil society and the private sector each have important roles to play. From my experience of speaking with young people, parents, educators, and local leaders in El Salvador, it is perhaps most important to promote a "rule of law culture" among young people in the region. For more on this topic, click here to see El Salvador's Rule of Law Index page, and here to see video footage of a recent event on crime in Central America I attended which was hosted by The Woodrow Wilson International Center for Scholars.
Tags: