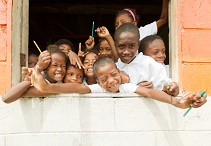 The 2012 Roderick B. Mathews Opportunity Fund competition was unlike any other. For the first time, the entire process took place online. Seeking to inject entrepreneurial creativity into rule of law reform efforts, the Opportunity Fund is the World Justice Project's mechanism to provide direct funding and support to projects that strengthen the rule of law across the world.
Since its launch in 2008, the Opportunity Fund has provided over $1,000,000 in seed grants to incubate innovative programs that strengthen the rule of law in more than 20 countries and 17 professional disciplines. Past projects were incubated at World Justice Forums and regional conferences, addressing how the rule of law can address some of the world's most challenging issues.
This year, the WJP received 200 applications from around the world, with the largest regional representations drawn from sub-Saharan Africa, Latin America and the Caribbean, and East Asia & Pacific. Projects ranged in topic from arts and culture to environmental governance, focusing on improving access to justice for women, children, migrant workers and persons ensnared in the criminal justice system.
In addition to funding, Opportunity Fund winners will receive publicity, research and networking support from the WJP. Winners will also have the opportunity to present progress on their projects at the World Justice Forum IV, a global gathering to examine the foundational importance of the rule of law and to promote collaborative actions to strengthen the rule of law.
Over the next several weeks, the WJP will be reviewing applications, with winners to be announced in March. In the meantime, check out current and past projects in the Opportunity Fund Program Library. Organization and project profiles can be found on the Justice Rising Blog.
To learn more about the work that we do, and also the efforts of others we support throughout our rule of law network, click a country on the Where We Work map.
Congratulations to our applicants for contributing to one of the most diverse and dynamic competitions in the WJP's history, and best of luck in the adjudication process!
IN MEMORIAM: RODERICK B. MATHEWS
The World Justice Project's Opportunity Fund is named in honor of Roderick B. Mathews, one of the founding board members of the World Justice Project as well as its treasurer. WJP Founder and CEO, Bill Neukom, described Mr. Mathews as, "a man for all seasons. He had intellect, empathy and charm. He made fast friends of colleagues and strangers, finding common interests and giving them the benefit of the doubt. His was an irresistible personality." In tribute to Mr. Mathews' leadership and his devotion to the advancement of the rule of law, the WJP has named its Opportunity Fund in his honor.
Tags: