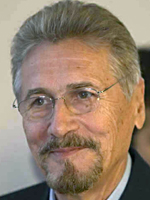 Emil Constantinescu
Director
Professor Dr. Emil Constantinescu served as the President of Romania from 1996-2000. During his time as head of state, Dr. Constantinescu targeted corruption and was an advocate for human rights and the rule of law. Dr. Constantinescu is also a university professor, scientist, and writer who was previously the President of Bucharest University and Chairman of the National Council of Romanian Universities' Rectors from 1992-1996. Dr. Constantinescu has published 12 books and more than 60 scientific studies.
Since 2001, Dr. Constantinescu has been a member of the International Board of the East West Institute, the Institute for Cultural Diplomacy, and the International Centre for Democratic Transition, among others.
He received his Bachelor of Laws and his Bachelor of Geology from the University of Bucharest, and holds a Ph.D. in Geology.