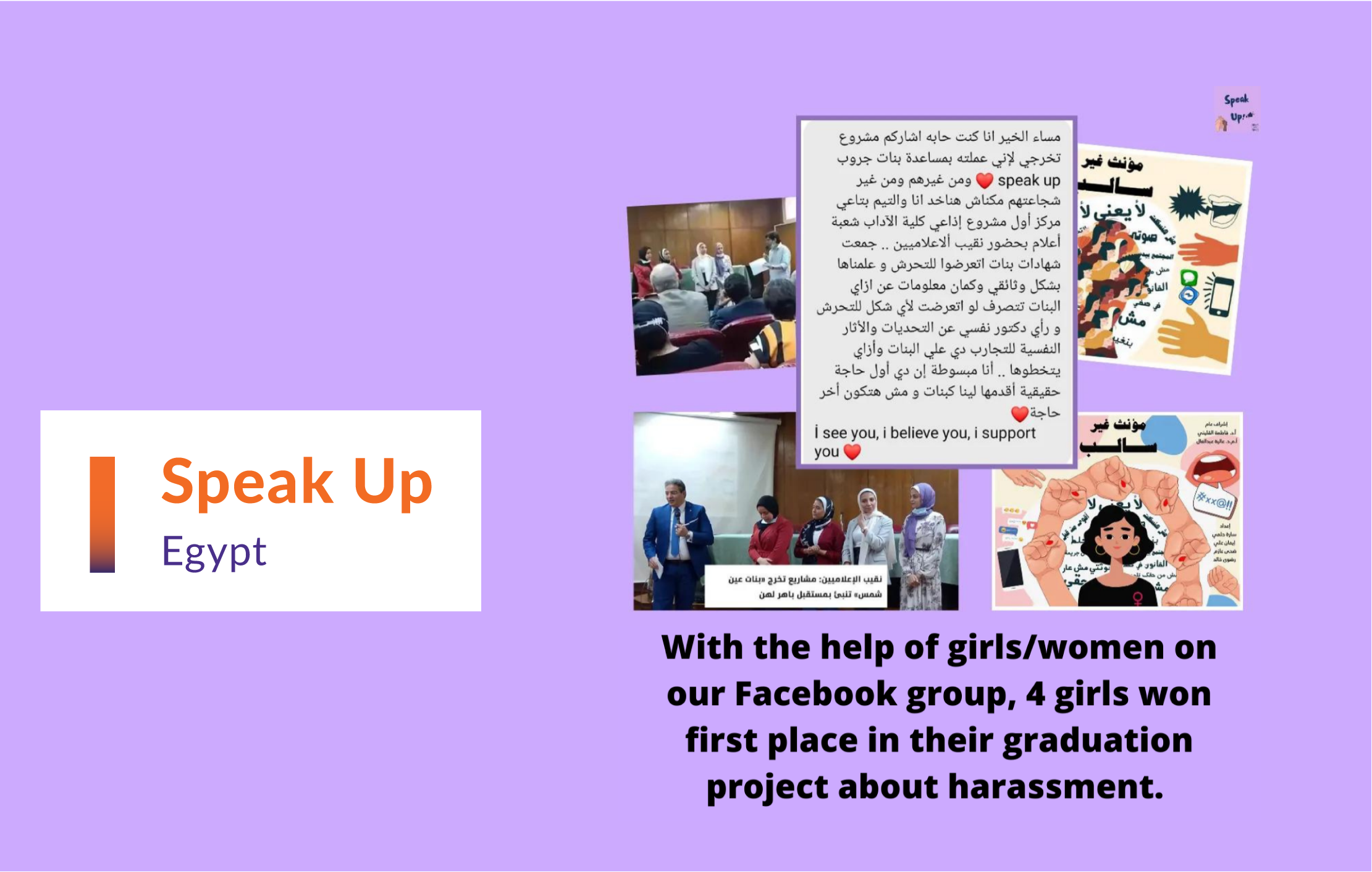 Speak Up: empowering victims to combat sexual harrasment and gender-based violence in Egypt
The Problem
The problems detected by Speak Up included a lack of adequate laws and regulations that protect victims of gender-based violence (GBV), a lack of access to proper education on sexual and reproductive health for girls and women, and taboos preventing girls and women from being aware of their basic rights in Egyptian society.
The Approach
The Speak Up initiative against sexual harassment launched in 2020 in response to a rise in sexual harassment numbers in Egypt. It has since expanded into a myriad of gender-related issues and has been a direct cause of female-empowerment and women rights' legislations issued by the Egyptian parliament. In addition, it has initiated various campaigns against harassers and rapists, which eventually resulted in arrest and accountability. The Speak Up initiative has become the number one destination victims of GBV in Egypt turn to for perpetrator exposure, legal guidance, and psychological support. A Facebook group was created, which worked as a safe haven for victims of harassment and violence in Egyptian society. Speak Up created a network of figures of authority who are sympathetic to the cause, facilitating the connection between victims and authorities to hasten the arrest and trial of any harasser. Through both networks, Speak Up became an invaluable link in Egyptian society, directly bridging the gap between victims and those who hold the power to take action.
The Impact
Speak Up's awareness campaigns on female genital mutilation led to a law criminalizing the practice in Egypt.
Speak Up launched the largest campaign for perpetrator accountability in 2020. The campaign became a viral social media trend in Egypt and an order for perpetrators' arrests was finally issued, resulting in a life prison sentence for rape and kidnapping.
Speak Up worked with Brazilian activists on a joint campaign in Arabic, English, and Portuguese calling for the arrest of a doctor accused of sexual harassment. Brazilian media hosted Speak Up representatives on the two biggest media channels in Brazil. The doctor was arrested, apologized publicly, and was deported to Brazil.
The Future
Speak Up plans to scale the initiative to obtain a higher reach in Egypt, and create and launch more specialized awareness campaigns inviting professionals to address local problems. There are plans to launch a blog on the website, where contributors can post professional pieces on various topics related to sexual and reproductive health, legal issues, harassment, and general awareness topics.