Finalist
Access to Justice
---
Customary and Informal Justice
Racial and Ethnic Minorities
---
Share this
---
Contact information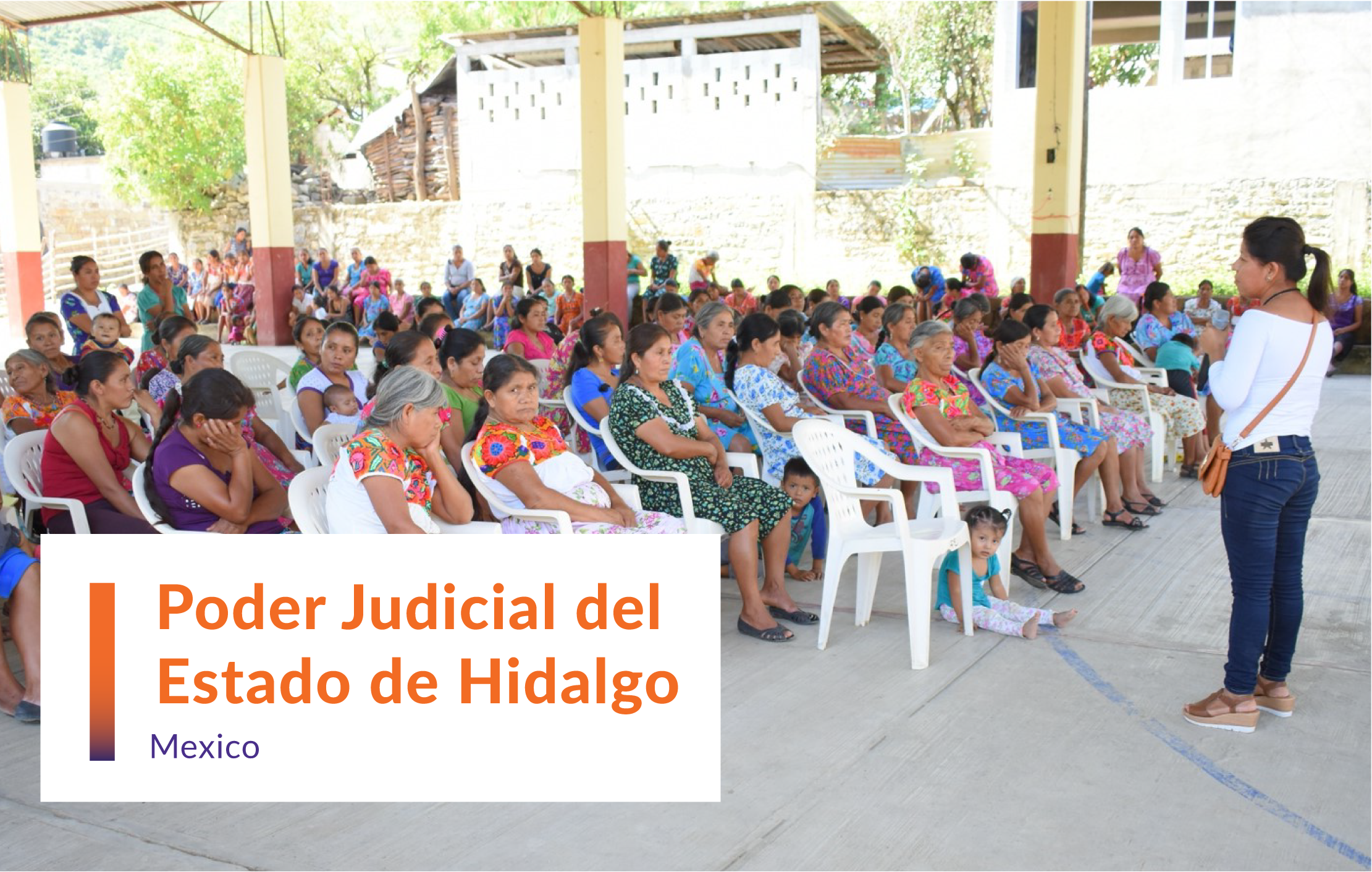 Indigenous Mediation: Creating a strategic model of mediation for indigenous peoples in Hidalgo
The Problem
Over time, Mexico's indigenous communities have developed internal forms of organization, regulatory systems, and conflict resolution. However, social problems have arisen due to marginalization, unemployment, migration, discrimination, and violence, fostering an environment of conflict within and among communities. Indigenous mediation in the state of Hidalgo thus emerged as a social need.
The Approach
Hidalgo's indigenous mediation program began in 2007. At the outset, legal needs surveys were carried out in municipalities with indigenous populations. The data demonstrated a clear need to bring justice closer to these communities, both through formal justice and community forms of conflict resolution. Despite the fact that there was no regulation in the Federal Constitution regarding alternative forms of conflict resolution, the State of Hidalgo promoted the use of alternative dispute resolution mechanisms, specifically mediation and conciliation, as effective means to access justice. The first local law on alternative justice was published in 2008.
The indigenous mediation model provides a service to resolve conflicts, attended by an indigenous facilitator who helps people achieve collaborative agreements through dialogue. The facilitator speaks the native language and understands the traditions, customary laws, culture, and values of the indigenous peoples. Agreements are reached through recognition and protection of the communities' regulatory systems. Indigenous mediation serves as a tool of social transformation that guarantees the full exercise of human rights and respect for the dignity of indigenous communities.
The Impact
In 2019 and 2020, the program reached 53,658 people and conducted 167 field sessions from three regional offices.
85% of participants in the indigenous mediation program have reached an agreement.
The State of Hidalgo has distinguished itself at the national level as a promoter of mediation.
The State Center for Alternative Justice has become a reliable institution, with a select group of public servants trained and certified as facilitators in accordance with the principles of transparency, ethics, professionalism and responsibility, minimizing risks for corruption.
The Future
The program aims to strengthen the use of communication technology in indigenous mediation processes through online mediation, and will continue to publicize the benefits offered by indigenous mediation through field visits and community engagement activities.