Finalist
Access to Justice
---
Labor Rights
Migration
Human Rights
---
Share this
---
Contact information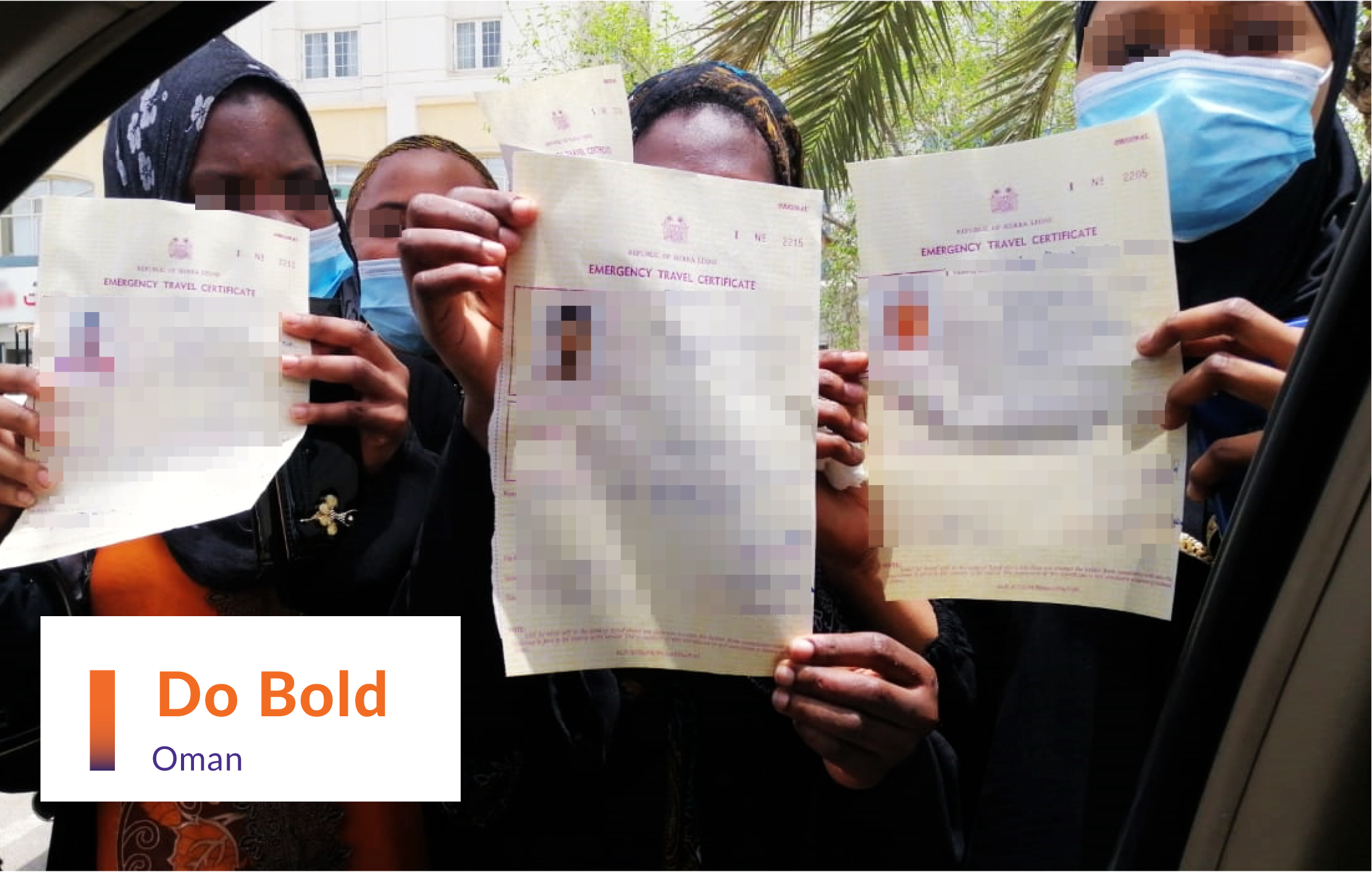 Freedom for Our Sisters: ensuring the safe repatriation of trafficked women from Oman back to Sierra Leone
The Problem
In October 2020, 200+ female Sierra Leonean domestic workers in Oman reported that they had been deceived into leaving their home country with the promise of high wages and jobs in supermarkets, hotels, and restaurants. Many did not know they were coming to Oman until they arrived.
In Oman, they were exploited as domestic workers, working on average 16 hours a day, seven days a week. Employers withheld pay and many experienced physical, sexual, and verbal abuse. Employers withheld their passports and because of Oman's kafala visa system, they could not change or leave their employment.
This community is at higher risk of exploitation due to the absence of recruitment regulations in Sierra Leone, lack of a Sierra Leonean embassy in Oman, low literacy rate (35%) among Sierra Leonean women, and the challenging economic situation in Sierra Leone.
The Approach
The Freedom for Our Sisters project focuses on the empowerment of Sierra Leonean female domestic workers trafficked and exploited in Oman and their safe repatriation during the COVID-19 crisis. Its goals are to identify gaps in policies and practices related to trafficking and exploitation and help victims recover from this experience in a dignified way. The program gathers crowdsourced data to understand the women's migration journey, profile of the trafficker, types of exploitation, and the discriminatory policies that trap victims in Oman. The voluntary and safe repatriation process includes: purchasing a flight, covering PCR tests both in Oman and Sierra Leone, organizing paperwork, and, on arrival, coordinating for ground transportation and reintegration support.
The Impact
Voluntary and safe repatriation of 131 women.
Conviction of one individual for human trafficking in Sierra Leone.
Shelter for 25 Sierra Leonean women who were sleeping on the streets.
205 women supported with amnesty registration.
Empowered five women with coaching on how to negotiate better working conditions or release.
Covered over 60 PCR tests.
Provided 67 women with Emergency Travel Certificates from the Sierra Leonean Embassy.
Obtained ID information for 28 women to receive amnesty.
Provided phone data to 69 women to help them communicate with family and among the community.
Soft-landing kits (arrival money) provided to 85 women.
The Future
The project plans to scale its efforts to migrant mothers who have given birth out of wedlock in the United Arab Emirates and a community of 700+ migrant workers. They will also launch a report, engage with governments to further cooperate, and partner with organizations to raise awareness.