The Young Generation's Note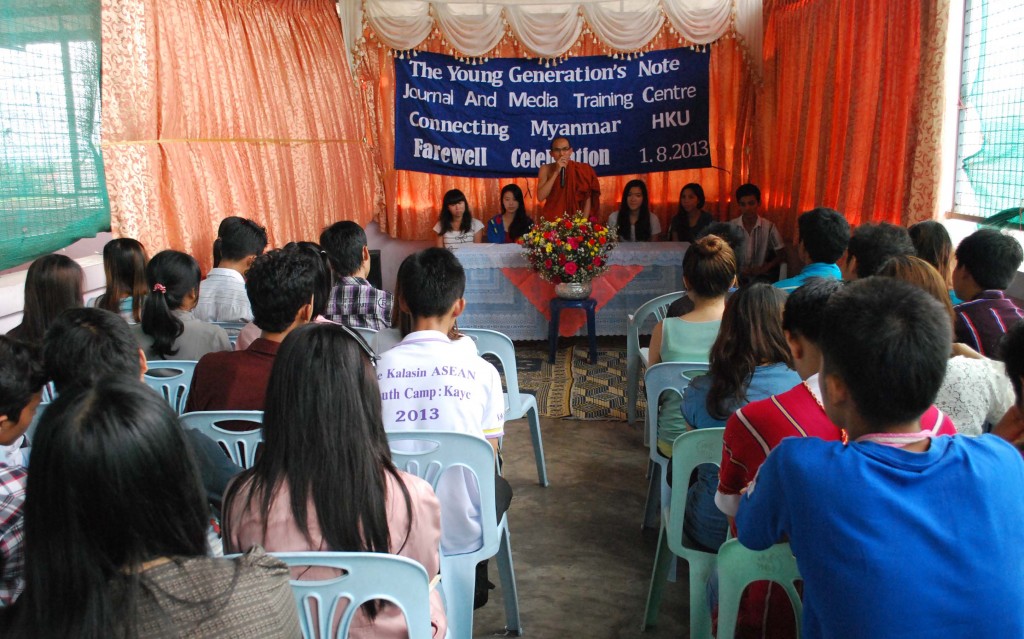 The Voices of Burmese Migrant Youth
Challenge
Burma is home to one of the world's longest-ruling military dictatorships and the world's longest-running civil war. Education is limited, the media is controlled and many young people – refugees, migrants, students – flee through the jungles to Thailand's border towns, seeking a better life.
At present, over 3 million Burmese migrants live in the Thailand-Burma border town, Mae Sot. Their chances are poor. Working and sleeping in factories, farms and shops, or living in the numerous refugee camps, they have little chance to improve themselves and they quickly lose their confidence and hope.
Program Summary
The Young Generation's Note was initiated in 2011 by a group of mixed ethnicity young Burmese exiles, refugees and migrants based on the Thailand-Burma border who were concerned by the Burmese youth's limited access to the media. Originally starting as a Facebook page where other young people were encouraged to share news, their own writing and opinions, it then launched a monthly printed journal distributed for a membership fee of 50 Baht per month.
The first YGN journal began freely distributing on 19 September 2011. In 2012, the YGN also started offering free media skills training in photography and writing, as well as launching an English-language website at www.ygnote.com. In mid-2013, the YGN offered free media skills training in basic journalism given by Connecting Myanmar, Hong Kong University.
The aims of the YGN are to:
Raise young Burmese people's understanding of the power of the media and its public value;
Increase through skills training and access young people's engagement with the media for civic participation;
Build bridges between Burmese ethnicities;
Support a generation of young journalists and future civil society leaders;
Create opportunities for the participation of migrant workers; and
Increase knowledge of human rights in society for both migrant workers and local people.
Impact
The YGN will address the fundamental rights of migrants, refugees and students in Mae Sot, Thailand-Burma Border by publishing over 1,000 issues of an inspiring journal featuring writings by young people on topics such as children's rights, labour rights, educational rights, land rights and governance - alongside other youth oriented cultural content. The journal is shared and read by at least 100,000 young people.
The project will specifically and effectively promote freedom of opinion and expression. Additionally, some young people from inside Burma and the Burmese refugee/migrant community will undertake a skills training course in writing, journalism and photography. The ambition is that these young people will eventually return to Burma and help contribute to an open, professional media presence that is able to keep the state accountable.
Partners
The Oxford Burma Alliance, UK (http://oxford-burma-alliance.weebly.com/)
The National League for Democracy, Burma
48 Private Schools inside Burma
The Aung San Jurmoon Library, Bago, Burma
The Best Friend Library, Thailand
The Borderline Arts Centre, Mae Sot, Thailand
Knowledge Zone Vocational Training Centre, Bago, Burma
Free Funeral Service Society (FFSS), Yangon, Burma
Connecting Myanmar, Hong Kong University
Min Ma Haw Migrant School, Thailand
Burma Anti-Child Trafficking Networking Group
MAP Radio, MAP Foundation, Thailand
Border Flower Library and educational Centre, Myawaddy, Burma
Project Details
Program Status:Active
Program Type:Partner
Region:East Asia & Pacific
Program Countries:Myanmar and Thailand
Rule of Law Index Factors: Fundamental Rights (Factor 4), Civil Justice (Factor 7), and Informal Justice (Factor 9).
Issue Areas: Arts and Culture, Education, Human Rights, Media, and Youth.