Land is Life, Land is Power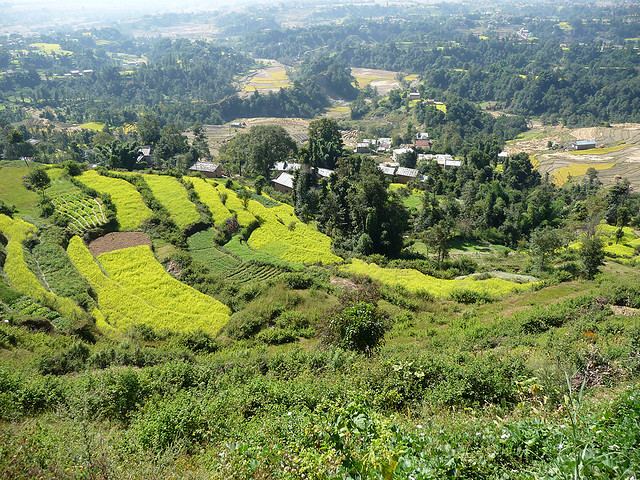 Changing the Power Structure in Nepal
Challenge
As noted in the World Justice Index Report for Government Regulatory Enforcement, Nepal is at 0.44 or 70/97 countries. Although land reform legislation exists, implementation is noticeably lacking. The major challenge is to implement existing legislation while also ensuring that land reform is integrated into the new Constitution to protect the land-poor, as well as farmer's rights.
In Nepal, a family without land is at a major disadvantage since most government services are connected to holding a land certificate. Access to land is also essential to enabling the rural poor to have equal opportunities to markets and livelihoods. Tenants and marginalized people do not have these opportunities as they do not have access and/or security of land. Education and access to land lead to development and economic growth.
The 2007 Interim Constitution mandates the Government of Nepal to adopt a policy to implement scientific land reform to minimize widespread inequality in access to land through the abolition of feudal systems of land holding. These include:
Article 18 (3) guarantees every citizen's right to food sovereignty as provided by the law.

Article 34 (4) specifies that the fundamental economic objective of the state is to prevent available resources and means of the country from being concentrated within a limited section of society.

Article 35 (6) requires that the state encourage peasants by increasing productivity; creating conditions for economic progress of the majority of the people who are dependent on agriculture, by launching a land reform program, and developing the agricultural sector as an industry.
This indicates that the major political forces and government of Nepal have realized that a feudal structure in land and agriculture still remains, which is directly related to land reform and marginalization of farmers who are tillers. The 1964 Land Act states that upon commencement any person who has been cultivating another's land will be given first priority for acquiring tenancy rights. As a second condition, under this Act, any person that has cultivated another landowners' land, which yields a major annual crop, is qualified to be a tenant. These provisions did not help tenants from losing their rights, since they were required to produce a receipt from the landowners for their claim. None of the owners who rented out their land on an informal sharecropping basis could have entered into an agreement with the tenants, thereby surrendering their own rights to till the land. Even the Courts did not understand the hardships of cultivators in supporting legal provisions aiding in acquiring legal rights of tenancy. The legislature attempted to correct this non-enforcement by introducing a fourth amendment in 1996, but unfortunately this amendment also turned out to be futile. In fear of having their land size reduced, landowners started keeping land, which reduced agricultural production and also increased the amount of land that was barren. Around 160,000 tenants have filed cases for 50 percent of land ownership as tenancy rights insured by law, but these cases have remained pending for eight years.
Program Summary
This program will be a focused mass movement ensuring implementation and monitoring of land reform legislation, as well as including land reform in the new Constitution. CSRC is an advocacy NGO that has established a network through organizing the National Land Rights Forum (NLRF) in Chitwan and District/Village Land Rights Forums (D/VLRFs) in 53 out of 75 districts throughout Nepal. CSRC/NLRF uses non-violent principles in bringing forward a land and agrarian reform agenda by building capacity through 2600 VLRFs of poor/landless people to advocate for themselves.
At the administrative level in Kathmandu, staff have been part of High Level Land Rights Commissions in exerting influence on the government to implement land reform through scientific methods. Unfortunately, little has occurred. On November 19, 2013, Nepal completed a second Constituent Assembly (CA) election since the end of the People's War in 2006. The drafting of a new constitution should begin during 2014, also encouraging hope that previous legislation will begin to be implemented. However, without pressure from civil society and holding CA members accountable, legislative implementation will continue to lag.
The purpose of this program is to build further capacity amongst land rights activists to pressure the government to include land reform in the new constitution, while simultaneously establishing a timetable for implementation of existing legislation. This will include bringing land rights advocates and those who are land poor or landless to Kathmandu to meet with government officials, including the National Human Rights Commission members (NHRC). Simultaneously, the program will develop strategies and actions, e.g. rallies, letters to officials, advertisements, for consistently holding those in power accountable, including officials at the local level. A major part of this program is to provide opportunities to give "voice" to the voiceless, people who have been at the bottom of society - those who cannot gain access to basic government services or who remain as bonded laborers, including those from the lower level castes because they do not have access to owning land.
This program will result in a full scale mass movement focused on ensuring that land reform is part of the new constitution. However, CSRC/NLRF intends to go further in keeping pressure on the government in implementing scientific land reform. CSRC/NLRF will work with the government on pilot land reform projects in developing replicable models.
Impact
Beneficiaries: The land-poor/landless, those at the bottom rung of the economic (and caste) ladder, will be the primary beneficiaries of the program. However, on a broader scale, Nepal society may further benefit, depending upon how much "noise" or influence CSRC/NLRF can have through this program. As noted above, these are the people who are most impacted by not having access to land. In a broader sense, land reform will help to create more stability and food security in Nepal with a focus on breaking the poverty cycle. This might also help to alleviate the issue of people feeling the need to immigrate for jobs. As Nepal is still very much an agrarian based society, 66 percent of the population depends on agriculture for their livelihoods. Land ownership is a key indicator of identity, power, wealth, and political access. Yet up to 25 percent of Nepal's population is estimated to be landless or near-landless. The bottom 47 percent of agricultural households control only 15 percent of agricultural land; the top 5 percent control more than 37 percent.
About 80 percent of Nepal's people live in rural areas and depend on subsistence farming for their livelihoods. Household food insecurity and poor nutrition are major concerns in these areas, where about half of children under five years of age are undernourished. Most rural households have little or no access to primary health care, education, safe drinking water, sanitation or other basic services. Poor rural people in Nepal generally have large families, very small landholdings or none at all, and high rates of illiteracy. They are also concentrated in specific ethnic, caste and marginalized groups, particularly those of the lowest caste (dalits), indigenous peoples (janajatis), and women.
In terms of the Index:
6.1 Regulatory Enforcement: This Program will focus specifically on factor 6.1, that Government regulations are effectively enforced. Through advocating and pressuring the government, and creating further awareness regarding land reform, this program will provide an example as to how existing legislation, as well as the new Constitution, can be truly implemented in a timely fashion. The intent is to ensure that land reform implementation starts and continues, and is an integral part of the new Constitution, helping to increase Nepal's score for regulatory enforcement. If CSRC/NLRF can provide an example, there are possibilities for implementing other legislative activities. The funds will help to get "the ball rolling" and CSRC/NLRF will continue this process until there is land reform throughout the country.
4.1 Equal Treatment and Absence of Discrimination: Due to the focus on enabling lower level castes, laborers and others at the bottom end of the economic ladder to access land, this program will also be involved with fundamental rights, especially equal treatment and ending discrimination. If scientific land reform can occur, those benefitting will have a much higher social position, leading to more equal treatment in society and under the law.
Partners
CSRC will work with the National Land Rights Forum (NLRF), located in Chitwan District, which is the real leader of the people's land rights movement in Nepal. Additionally, CSRC will work with D/VLRFs in determining land rights advocates/activists to train.
Project Details
Program Status:Active
Program Type:Partner
Region:South Asia
Program Countries:Nepal
Rule of Law Index Factors: Fundamental Rights (Factor 4), and Regulatory Enforcement (Factor 6).
Issue Areas: Business, Government, and Human Rights.