For the Child's Best Interest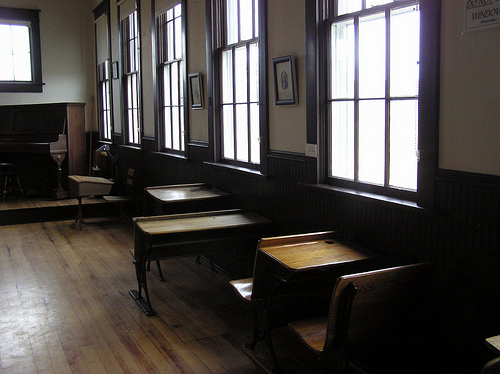 To Address Segregation of Roma Children in Macedonia's Educational System
Challenge
The main challenge that this project aims to address is the segregation of Roma children; their placement in special schools and separate classes for persons with intellectual disabilities, which is still common in Macedonia.
The state is responsible for protection, promotion and guaranteeing the right to education for all, especially to ethnic communities. Analysis shows that in comparison to children of any other ethnicity, higher numbers of Roma children are in schools and classes for children with learning disabilities. Reports released by international human rights treaty bodies and regional institutions such as CERD, CEDAW, CRC, European Commission against Racism and Intolerance, and the Commissioner for Human Rights stress that the segregation of Roma in specialized schools for persons with disabilities is a pressing problem that the state should resolve.
In addition, unofficial school data show that almost 30 percent of students in special primary schools, special classrooms within regular schools, and the institutes for education and rehabilitation are Roma. The proportion of Roma in special schooling goes far beyond the percentage of Roma in the overall population in the country that amounts to only 5-6 percent- a situation that indicates a serious bias in the enrollment procedure as well as in the distribution of social benefits and aid to families. Only students in schools for children with special needs receive certain benefits, like free meals, free transport and school supplies. This acts as incentives for Roma families to accept the referrals that their children get when their teachers want to avoid dealing with them in the mainstream educational system.
Children enter special schools or classes after a team of professionals have approved that they have special educational needs. Furthermore, enrolment into primary education is conditional on a child's school-readiness. This assessment is conducted in the language in which complete instruction is offered and requires familiarity with paper and pencil and other mainstream cultural-based competencies. Roma children often show low results in these tests and are encouraged to enroll in special schools or special classes within regular schools. The referral and enrolment procedures applied in Macedonia have not been questioned as they have been in other countries such as Bulgaria, Croatia and Czech Republic. Nonetheless, the issue calls for further scrutiny. With the decentralization process, the responsibility for categorization of special education students is being moved from central level and transferred to the municipal level.
The lack of professional staff and comprehensive action towards elimination of this practice shows that the authorities keep their "eyes closed." It is necessary to establish a sustainable network of key stakeholders to prevent future cases and to rehabilitate the existing one: For the child's best interest.
Program Summary
The program will entail diverse methods to analyze the current challenge of Roma segregation in special schools and separate classes in regular schools, and will recommend ways of rectifying this challenge through capacity building and policy change. Thus, the program will encompass the following activities:
1. Developing research on segregation of Roma in special schools:
The research will entail three parts:
analysis of international standards and national legislation in relation to prohibition of segregation in the educational system that will be done though desk research;

qualitative assessment of the current situation of segregation of Roma in special schools that will be done through focus groups with Roma pupils, Roma parents, educational staff, interviews with school management, independent institutions, educational inspectorates, civil society organizations working in this filed, and a workshop with relevant institutions and civil society; and

conclusions and recommendations for improvement.
2. Organizing a conference with policymakers:
The conference with policymakers will be organized to present the findings from the research report and discuss the recommendations for improvement to the Ministry of Education and Science, Ministry of Local Self-government, Ministry of Labour and Social Policy, Commission for Protection from Discrimination, Ombudsman Office, Agency for Community Rights Realization, Educational Inspectorates, Directorate for Education of the communities, Directorate for educational development, Regional Roma Information Centres, Association of Units of the Local Self-government, and Academy for Judges and Public Prosecutors, among others. Prior to the conference, policy briefs will be prepared that emphasize the step-by-step approach to rectifying the problem in question. The conference will consist of two panel discussions and tree parallel workshops with the above mentioned stakeholders and representatives from the network of local Roma civil society organizations. On the first panel the findings from the analysis of international standards and national legislation will be presented. On the second panel the results from the qualitative assessment will be presented and discussed. In addition, on the three parallel workshops the following themes will be discussed: "Institutional action towards elimination of segregation of Roma children", "How to decrease the damage done until now?" and "Actions by civil society – watchdogs that prevent future cases of segregation of Roma in education". The conference will be closed with one joint panel discussion to present findings from the workshops. The researchers will prepare conclusions and recommendations from each of the panels/workshops, which will be shared with the relevant stakeholders, key officials and policy makers. Around 100 participants are expected to be present at the conference (and about 30 for each of the workshops).
3. Developing standard operating procedures for dealing with Roma children:
The Center for Political and Juridical Research will initiate developing standard operating procedures for dealing with Roma children that should be done jointly with the institutions responsible for effective implementation of the right to education for all, without discrimination, securing a bottom-up approach.
Impact
The program will impact Factor 4 Fundamental Rights and sub-factor 4.1 "equal treatment and absence of discrimination" of the WJP Rule of Law Index. The Index points out that laws can be fair only if they do not make arbitrary or irrational distinctions based on inter alia ethnicity. The issue in concern will be approached and analyzed from a non-discriminatory point of view, rather than economic rights. Namely, segregation as defined by the European Commission against Racism and Intolerance, an expert body in the Council of Europe regional legal system, is a form of direct discrimination and in the case of Macedonia can lead to possible direct and, even more, indirect discrimination that can seriously affect the fabric of society in general.
The Index shows that Macedonia faces challenges in this area and is evaluated on Factor 4 with a score of 0.64 with a global ranking of 41/97, regional ranking 10/21 and income group ranking 12/30. It is assessed that discrimination against marginalized groups is a source of concern. The program as envisioned will have target groups and beneficiaries. The target groups includes state officials, academic public, educational staff, and Roma civil society organizations. The beneficiaries will be the Roma children, both current and future pupils segregated in special schools and separate classes in regular schools, Roma families, Roma community and the general population of the country.
Partners
Partners that will be engaged in the implementation of the project activities are:
Ministry of Education and Science
Commission for Protection from Discrimination
Directorate for Promotion and Development of the Education for the communities
Furthermore, the programme will engage with the Regional Roma Information Centres that are established under the Ministry of Labour and Social Policy and managed by local Roma civil society organizations. Finally, the programme will invite networks of Roma civil society organizations such as: RNVO Roma 2002 where members are 10 well recognized local Roma organizations, represented and led by Roma.
Project Details
Program Status:Active
Program Type:Partner
Region:Eastern Europe & Central Asia
Program Countries:Macedonia, Former Yugoslav Republic
Rule of Law Index Factors: Fundamental Rights (Factor 4)
Issue Areas: Education, and Human Rights.