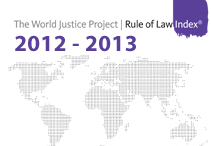 On November 28th, the WJP released its Rule of Law Index 2012-2013 report covering 97 countries and jurisdictions, representing over 90 percent of the world's population.
The WJP Rule of Law Index® is an assessment tool that offers a comprehensive picture of adherence to the rule of law. The 2012-2013 report is the third in an annual series and includes, for the first time, a total of 97 countries and jurisdictions.
The Index and its findings have been referenced in major global media, including The Economist, The New York Times, The Washington Post, and El País; stimulated discussions and actions on the rule of law in countries around the world; and been cited by heads of state and chief justices, as supporting evidence of the need to advance rule of law reforms in their countries.
The report is a product of five years of intensive development, testing, and vetting – including interviewing 97,000 members of the general public and more than 2,500 experts in the following 97 countries.
| | | |
| --- | --- | --- |
| Albania | Ghana | Panama |
| Argentina | Greece | Peru |
| Australia | Guatemala | Philippines |
| Austria | Hong Kong SAR, China | Poland |
| Bangladesh | Hungary | Portugal |
| Belarus | India | Romania |
| Belgium | Indonesia | Russia |
| Bolivia | Iran | Senegal |
| Bosnia and Herzegovina | Italy | Serbia |
| Botswana | Jamaica | Sierra Leone |
| Brazil | Japan | Singapore |
| Bulgaria | Jordan | Slovenia |
| Burkina Faso | Kazakhstan | South Africa |
| Cambodia | Kenya | Spain |
| Cameroon | Republic of Korea | Sri Lanka |
| Canada | Kyrgyzstan | Sweden |
| Chile | Lebanon | Tanzania |
| China | Liberia | Thailand |
| Colombia | Macedonia | Tunisia |
| Cote d'Ivoire | Madagascar | Turkey |
| Croatia | Malawi | Uganda |
| Czech Republic | Malaysia | Ukraine |
| Denmark | Mexico | United Arab Emirates |
| Dominican Republic | Moldova | United Kingdom |
| Ecuador | Mongolia | United States |
| Egypt | Morocco | Uruguay |
| El Salvador | Nepal | Uzbekistan |
| Estonia | Netherlands | Venezuela |
| Ethiopia | New Zealand | Vietnam |
| Finland | Nicaragua | Zambia |
| France | Nigeria | Zimbabwe |
| Georgia | Norway | |
| Germany | Pakistan | |