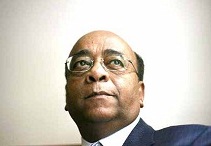 The World Justice Project's Honorary Chair Dr. Mohamed Ibrahim is a Sudanese-born, British mobile communications tycoon, the founder of Celtel, and the chairman of Satya Capital and the Mo Ibrahim Foundation.
Dr. Ibrahim's early career began at Thames Polytechnic, now University of Greenwich in London, where he taught telecommunications courses. He went on to assume the position of Technical Director for British Telecom until he left to start his own telephone company, Celtel. Out of the frustration of companies refusing to explore investment opportunities in the telecom industry in Africa, Dr. Ibrahim founded Celtel in 1998 in an attempt to exploit the supply and demand gap in the industry. Never having considered himself an independent businessman before, he developed a mobile phone company that would later service 23 countries in Africa and the Middle East. Dr. Ibrahim disregarded the 'risks' associated with investing in a continent whose telecommunication market was heavily underdeveloped; where, at the time, most people had never owned a cell phone, let alone used one.
After 7 years as CEO of Celtel, Dr. Ibrahim sold his company in 2005 for $3.4 billion. Since leaving Celtel, he founded the Mo Ibrahim Foundation, a charitable organization which awards the annual Ibrahim Prize for Achievement in African Leadership. The $5 million dollar prize is given to former democratically elected African heads of state who successfully transferred power after their terms of service, lifted their countries out of poverty, and who during their tenure as presidents championed the development of good governance, democracy, and the rule of law. Only three African presidents have been granted the award since its inception in 2007: Joaquium Chissano (Mozambique), Festus Mogae (Botswana), and Pedro Pires (Carpe Verde). By establishing the prize, Dr. Ibrahim sought to highlight the positive achievements in good governance on the continent that were often marred by negative media coverage.
In addition, the Mo Ibrahim Foundation has been instrumental in the development of the rule of law and good governance in Africa. The Ibrahim Index of African Governance (IIAG) was developed by the organization as an assessment tool of governance performance on the continent. The index ranks 53 countries across four categories: safety and rule of law, participation and human rights, sustainable economic opportunity, and human development. Since its inception, the Ibrahim Index has provided a framework for civil societies, citizens, and public authorities in African countries to assess the effective delivery of services in their countries and subsequently hold their governments accountable. This statistical tool has allowed countries to measure their development and progress and create frameworks for more robust approaches towards good governance.
Dr. Mo Ibrahim holds Honorary Degrees from the University of London's School of Oriental and African Studies and the University of Pennsylvania.
Photo: Courtesy of the Mo Ibrahim Foundation
Tags: