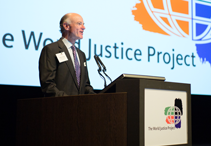 William C. Hubbard, WJP board chair and current ABA president, authored an opinion piece in the Winnipeg Free Press yesterday marking the 25-year anniversary of the fall of the Berlin Wall.
In the analysis, Hubbard underlines the value of continued support for reform efforts abroad in support of the rule of law:
"A clear-eyed realist knows that bringing about democracy, rule of law and respect for human rights is both a long-term endeavor and profoundly in our interests. A full 225 years after the American Bill of Rights was adopted, our work to secure these principles in the United States is far from done. . . Reformers the world over are at different places on the same arduous path, and they need and deserve our support and assistance, not because it satisfies some American fantasy about a well-ordered world but because good governance is also the key to solving other contemporary challenges."
Read the article in full here: "The other side of the Berlin Wall."