World Justice Project Announces Winner of 2016 WJP Anthony Lewis Prize for Exceptional Rule of Law Journalism
Washington, DC (5 May 2016) – The World Justice Project (WJP) today announced the winner of the inaugural WJP Anthony Lewis Prize for Exceptional Rule of Law Journalism.
A team of journalists from the Associated Press—Margie Mason, Robin McDowell, Martha Mendoza, and Esther Htusan—earned the win for their work reporting on corruption and human rights abuses in the Southeast Asia fishing industry. Due to their efforts, more than 2,000 modern-day slaves have been freed, perpetrators have been jailed, and companies and governments have introduced new policies, practices, and laws.
"We are honored by this award, but all the recognition today goes to the enslaved fishermen who risked their lives to tell us their stories," said the team in a group statement. "We hope this award can underscore how a breakdown in the rule of law can lead to gross labor abuses and impunity for those who make millions harvesting seafood from the ocean."
The WJP Anthony Lewis Prize for Exceptional Rule of Law Journalism, including a $10,000 award to the winner, was created to acknowledge journalists from around the world who have contributed to increased awareness and understanding of the foundational importance of the rule of law.
"The team's reporting in the series Seafood from Slaves has illuminated not only the tragic consequences of a breakdown in the rule of law, but also the possibility of making a difference through rigorous, thorough, and courageous reporting and advocacy," said William H. Neukom, founder and CEO of the World Justice Project.
The competition generated an impressive field of candidates through a global, public nomination process. In addition to the prize winners, five journalists were awarded Honorable Mention in recognition of their extraordinary reporting on rule of law issues: Anas Aremeya Anas (Ghana); Neha Dixit (India); Ruth Hopkins (South Africa); Kishali Pinto-Jawawardena (Sri Lanka); and Ian Urbina (USA).
The award was named in honor of Anthony Lewis (1927 – 2013), a friend and inspiration to the World Justice Project, who was a Pulitzer Prithze-winning author and journalist credited with transforming legal journalism in the United States. Lewis' reporting on the establishment of the Constitutional Court in post-apartheid South Africa helped inspire e creation of the World Justice Project. He was also an active participant at WJP's first regional meeting in 2007.
---
From the series Seafood from Slaves :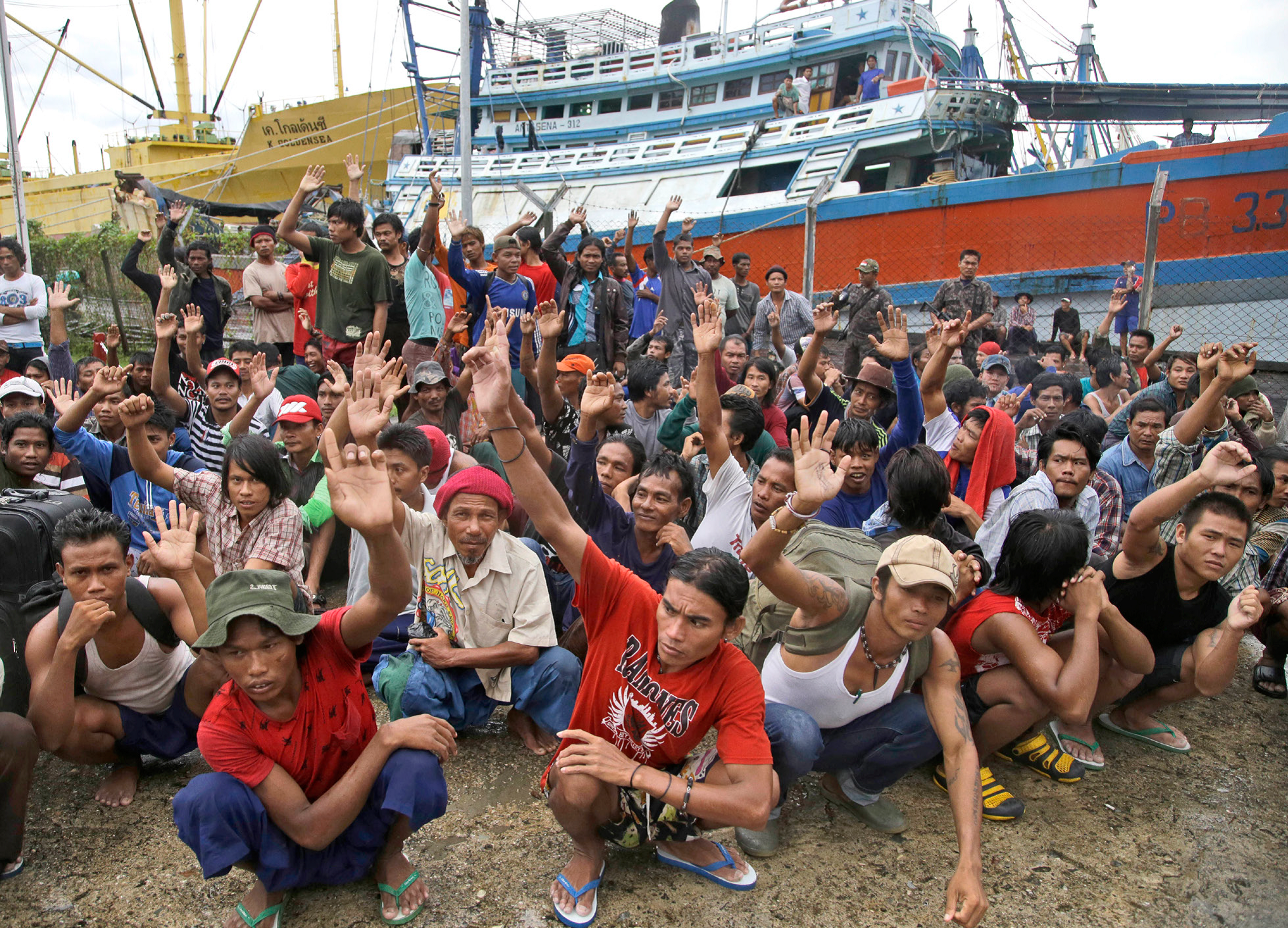 Migrant fishermen raise their hands as they are asked who among them want to go home at the compound of Pusaka Benjina Resources fishing company in Benjina, Aru Islands, Indonesia. (AP Photo/Dita Alangkara)
In this May 16, 2015 photo, former slave fisherman Myint Naing, center, hugs his niece Kyi Wai Hnin, right, and nephew Kyaw Min Tun following his return to his village in Mon State, Myanmar. Myint, 40, is among hundreds of former slave fishermen who returned to Myanmar following an Associated Press investigation into the use of forced labor in Southeast Asia's seafood industry. (AP Photo/Gemunu Amarasinghe)
---
About the World Justice Project
The World Justice Project® (WJP) is an independent, multidisciplinary organization working to advance the rule of law worldwide. Effective rule of law is the foundation for communities of peace, equity, and opportunity—underpinning development, accountable government, and respect for fundamental rights. Through Research and Scholarship, the WJP Rule of Law Index®, and Engagement, our work engages citizens and leaders to increase public awareness about the rule of law, stimulate policy reforms, and develop practical, on-the-ground programs.
Press contact: [email protected]
---
Top photo: Associated Press reporters Esther Htusan, Robin McDowell, Margie Mason and Martha Mendoza, the team of journalists whose stories on seafood from slaves have led to the release of more than 2,000 slaves, gathered in Los Angeles on Friday, April 15, 2016. The Associated Press found a slave island and tracked seafood caught by fishermen who were captives of Thailand's seafood industry, in some cases for decades, whipped with stingray tails if they asked for rest, risking murder by captains if they failed to please. (Photo: Thomas Mendoza)