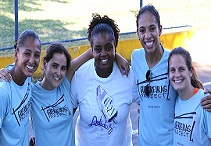 Team Leader of The GUERREIRASPROJECT (GP), Ms. Caitlin D. Fisher was a speaker on the "Sport and the Rule of Law" panel during World Justice Forum IV. Focusing on gender education and rights training through the lens of futebol, The GUERREIRASPROJECT's primary demographic is young women (15-35) and their communities.
This International Day of the Girl, WJP highlights the women (and men) of GP for developing innovative and culturally relevant strategies to educate girls on their human and civil rights, as well as combat gender bias.
Who we are:
The GUERREIRASPROJECT is a collective of athletes, artists, academics and activists using futebol as a tool to advance gender justice and promote more equitable and sustainable ways of being.
What we do:
One of our main initiatives involves gender education and capacity-building with professional female futebol players in Brazil to empower them as ambassadors of women's rights and gender justice in the community. Female players in Brazil confront significant prejudice and great barriers to their involvement in this traditionally male-dominated arena—many of these women self-identify as 'guerreiras' (female warriors) on account of this struggle.
The GUERREIRASPROJECT carries out training with female players (ages 15 -35) using narrative-based voice building, digital story-telling, and collective reflection to explore concepts of gender equity, gender roles, social norms, and gender as an organizing principle of society contextualized within a framework of privilege, prejudice and power. Female players examine these concepts in relation to their own experiences of gender on and off the field, and gain the skills to turn their stories into tools for change. When female players complete their training, they are equipped to run gender-futebol workshops in the community. Their work encourages participants to question how deeply embedded gender norms can affect decisions linked to power, control, expression, and violence in everyday lives.
GP has carried out work in brazil, Trinidad & Tobago, UK, Germany, Ghana and the USA.
Sheryl, Trinidad & Tobago, age 24 from caitlin fisher on Vimeo.
Our Theory of Change:
At the GUERREIRASPROJECT, we believe that the same narrow gender norms found in futebol are reflected in society at large and sit at the root of many social justice issues including homophobic and gender-based violence, poorer reproductive health, and lower educational outcomes. As such, these issues cannot be addressed without challenging deeply rooted gender norms and the narrow scripts of traditional masculinity and femininity. We view futebol as one of the most powerful, effective and accessible tools for this work.
The GUERREIRASPROJECT partners with social justice organizations to deliver its gender education training around particular gender-justice issues, incorporating content on women's rights, labor rights, employability, and sexual and reproductive rights, among other areas.
Click here to read our org highlight for this excellent program.
Photo Credit: The GUERREIRASPROJECT
Tags: