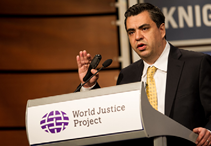 On Feb 11, WJP chief research officer Alejandro Ponce will deliver the keynote address at "The Rule of Law and Mexico's Energy Reform," a conference at Rice University's Baker Institute for Public Policy. The event will bring together leading United States and Mexican energy, legal and public policy experts to discuss rule of law issues arising under the Mexican energy reform, most prominently related to regulatory, legal, investment, environmental and social concerns.keynote address.
The event is hosted by the Baker Institute's Mexico Center and the University of Houston's Center for U.S. and Mexican Law, in collaboration with the School of Government and Public Transformation at the Instituto Tecnológico de Estudios Superiores de Monterrey, the law school of the Universidad Autónoma de Nuevo León and the Centro de Investigación para el Desarrollo think tank.
Event description, agenda, and details are available here.