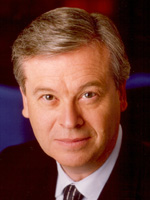 Mr. David Byrne SC
Former European Union Commissioner for Health and Consumer Protection
Mr. Byrne began his career as a barrister in Ireland in 1970, became Attorney General of Ireland in 1997, and was appointed the first European Commissioner for Health and Consumer Protection in 1999.
On retiring from the EU Commission in 2004, Mr. Byrne served as Special Envoy of the Director-General of the World Health Organisation (WHO) on a project to update the International Health Regulations dealing with global communicable diseases such as SARS and Avian Influenza.
For two years Mr. Byrne also served as an Adjunct Professor of law at University College Dublin, where in 2004 he was awarded an Honorary Doctorate of Law.
Currently, he is Patron of Health First Europe and founder member and co-chair of the European Alliance for Personalised Medicine. He chairs the iPRI Ethics Committee and is a member of World Prevention Alliance. He has been conferred with Honorary Fellowships of the Royal College of Physicians (London) and the Royal College of Physicians in Ireland, and is Chancellor emeritus Dublin City University.
Mr. Byrne is Chairman of the National Treasury Management Agency (NTMA) Advisory Committee, Deputy Chairman of DCC plc and a non-executive Director of Kingspan Plc.