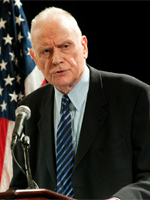 The Honorable Lee Hamilton
Former Chairman, Foreign Affairs Committee, U.S. House of Representatives
Lee H. Hamilton is director of The Center on Congress at Indiana University. Hamilton represented Indiana's 9th congressional district for 34 years beginning January 1965. He served as chairman and ranking member of the House Committee on Foreign Affairs, chaired the Subcommittee on Europe and the Middle East, the Permanent Select Committee on Intelligence, the Select Committee to Investigate Covert Arms Transactions with Iran, the Joint Economic Committee, and the Joint Committee on the Organization of Congress. As a member of the House Standards of Official Conduct Committee, Hamilton was a primary draftsman of several House ethics reforms.
Mr. Hamilton served on the Congressional Commission on the Strategic Posture of the United States. He was appointed to the National War Powers Commission, and served as co-chair of the Iraq Study Group, a forward-looking, bi-partisan assessment of the situation in Iraq, created at the urging of Congress. Hamilton served as vice-chair of the 9/11 Commission and co-chaired the 9/11 Public Discourse Project, established to monitor implementation of the Commission's recommendations. He was co-chair of the Independent Task Force on Immigration and America's Future and also served as a member of the Commission on Federal Election Reform, the U.S. Commission on National Security in the 21st Century (the Hart-Rudman Commission), and the FBI Director's Advisory Board.
He is currently a member of the President's Intelligence Advisory Board, the President's Homeland Security Advisory Council, the CIA External Advisory Board, and the U.S. Department of Homeland Security Task Force on Preventing the Entry of Weapons of Mass Effect on American Soil. He serves as co-chair of the U.S. Department of Energy's Blue Ribbon Commission on America's Nuclear Future with General Brent Scowcroft; with Justice Sandra Day O'Connor, he is co-chair of the National Advisory Committee to the Campaign for the Civic Mission of Schools.
Mr. Hamilton is a graduate of DePauw University and Indiana University School of Law. Before his election to Congress, Hamilton practiced law in Chicago, Illinois, and Columbus, Indiana. Mr. Hamilton is the author of How Congress Works and Why You Should Care; Strengthening Congress; A Creative Tension – The Foreign Policy Roles of the President and Congress; and co-author of Without Precedent: The Inside Story of the 9/11 Commission and The Iraq Study Group Report.